Students Talk About Bullying and Profiling With Author Joe Dwyer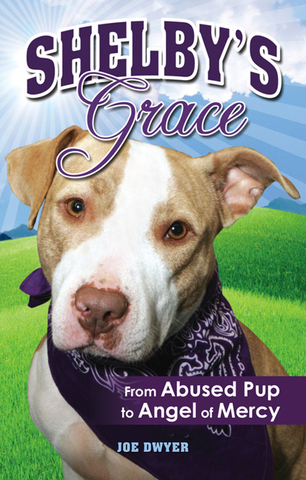 (Nutley, NJ)-The problem of bullying among youth is steadily increasing, says life coach and author Joe Dwyer. Just recently, the New Jersey state legislature passed the Anti-Bullying Bill of Rights.
Also in New Jersey, the Martin Luther King, Jr. School (PS 11) in Jersey City is taking this problem seriously: they have implemented educational programs that help students deal with bullying situations and invited speakers to address the problem.
Joe Dwyer, along with his pit bull Shelby, were first to be invited for this program. Their meeting was held at the Martin Luther King, Jr. school (886 Bergen Avenue, Jersey City, New Jersey) on November 18, 2010.
"I was delighted to visit the Martin Luther King, Jr. School and speak to the sixth, seventh and eighth grades about Shelby's story. I focused on profiling and bullying based on Shelby's story as an abused and bullied puppy," says Mr. Dwyer, who is also a dog trainer, motivational speaker and author of the new book "Shelby's Grace."
In his book, Mr. Dwyer describes his remarkable odyssey with Shelby, who he saved from a shelter. In return, she saved him from terrible depression and anxiety, and together they recovered their senses of purpose. Now Shelby is a certified therapy dog who helps people in difficult times.
Bullying is a form of abuse. There are three basic types:
* Emotional
* Verbal
* Physical
Many tragic cases of bullying and profiling have occupied recent news headlines. It is an epidemic, yet many parents and educators are still blind to the problem or uncomfortable discussing it.
A number of state and local governments have started implementing new laws and regulations to prevent bullying among youth. According to the Department of Education, twenty-five percent of American students say they have been bullied at least once a day.
However, a number of experts believe that state laws and school policies are not enough, and that kids need to learn how to handle bullying situations themselves.
"It was interesting to see how the students reacted to Shelby's story," says Mr. Dwyer. "They understood what she went through and felt sorry for her. I hope Shelby helped them realize that nobody should be bullied, and that it's wrong to treat anyone that way. I was also very impressed by the school's staff and students. They were very friendly and hospitable."
About the Author
Joe Dwyer is a motivational speaker, a life coach and a member of the National Speakers Association. He is also a dog trainer and a martial artist. Previously, he worked as a chemical engineer and an executive for Verizon and the Archdiocese of Newark. Joe is a man of faith and spirituality, and he supports rescue groups and therapy dog training. He lives in Nutley, NJ, with his family and four dogs.