Square Shooters Dice Game Cures Cabin Fever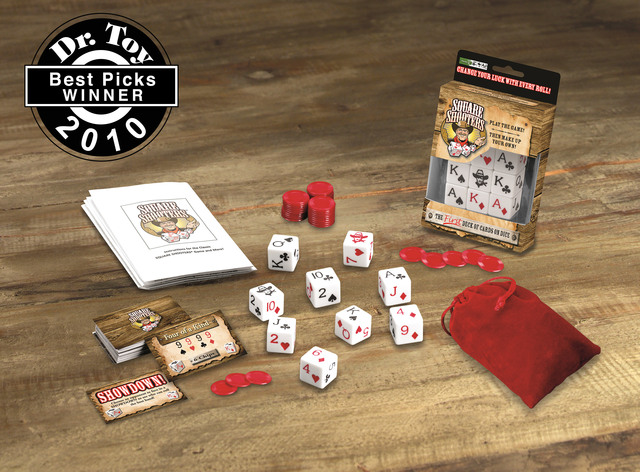 Heartland Consumer Products introduces a new prescription for cabin fever this winter with its Square Shooters® game, featuring the first deck of cards printed on dice (
www.squareshooters.com
)!
The game has already been selected as the 2010 Best Picks Award from leading toy and game authority, Dr. Toy, and its ready to pick up anyone's winter blues with a new twist on cards and dice games.
"Square Shooters is easy to learn and is a fast, fun game for any gathering," Tom Donelan, President & CEO of Heartland, explains. "The game appeals to all age groups and is perfect for getting friends, families, and kids of all ages to have fun together."
The winter months bring "cabin fever" as kids and adults alike begin to feel trapped indoors and with video games or movies, families can slide toward isolation. By 2009, media exposure was averaging nearly 11 hours per day for 8-18 year-olds - a 26% increase since 2004 (Henry J. Kaiser Family Foundation released M2: Media in the Lives of 8-18 year-olds). The lure of media has driven meaningful parent-child conversations down to an average of only 38.5 minutes per week (A.C. Neilsen Co.).
With few alternatives that can bring families of all sorts together, Square Shooters® is just what the doctor ordered to cure cabin fever! Easy to set up and full of options for either short or long play, Square Shooters® is the kind of game that can turn that "nothing to do" feeling into valuable time spent laughing and talking together.
Amber Dickens, Marketing Director, for Heartland, said, "It might seem like a simple concept - cards on dice - but Square Shooters is the first game of its kind."
Heartland licensed Square Shooters from the game's inventor, Carmelyn Calvert, who commented, "People love card games. People love dice games. When I thought of printing 54 playing cards on nine dice, I was so excited to find that I could lay them out in a way that made them suitable to play so many different games."
Square Shooters uses patented dice that are specially designed so that players can roll winning hands for poker, rummy, blackjack, war, and many other games. The company has posted instructions for six family games and five party games on its website:
www.squareshooters.com/play-family.html
To date, consumer reaction to Square Shooters has been fantastic, according to Hearltand, also makers of the hit card game Vegas®. Since the product's launch in November 2010, it sold out of its first inventory and went straight back into production to be ready for The International Toy Fair in New York City in February and the Association of Specialty Retailers (ASTRA) Show in June.
Dickens reports, "Young players love the matching play. Pre-teens and teens enjoy the action and chance. Parents are thrilled to have a game that is easy to set-up and children of all ages can play. Young adults love the poker possibilities. And senior players find the dice easier to handle than cards."
Square Shooters (MSRP $12.99/Basic Set and $19.99/Deluxe Set) is designed for one or more players ages 8 and up.
About Heartland Consumer Products
"Bringing People Together" is a mission that Cleveland-based Heartland Consumer Products aspires to achieve through products that fuel the fun when families and friends get together. Founded in 1999, Heartland proves that card games will always remain a very popular social activity, and satisfies that need by offering playing card products for all game occassions. Brands like Vegas®, VIP®, Gold Crown® and All InTM bring quality and price options to players of all types. The company's new Square Shooters® dice game is a natural extension to the company's core playing cards business and extends its product line into even more categories and proprietary game play!
Square Shooters® is a registered trademark of Carmelyn Calvert, and under license by Heartland Consumer Products, LLC. All rights reserved.
The Square Shooters® game is copyrighted by Carmelyn Calvert, and under license by Heartland Consumer Products, LLC. All rights reserved.
Email Heartland Consumer Products, LLC