Hertz Furniture Celebrates 45 Years in the School Furniture Business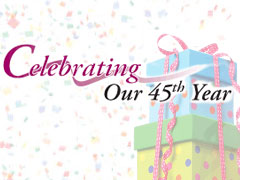 In honor of 45 years as leaders in the
school furniture
business, Hertz Furniture invites all customers to celebrate. A full year of
Celebration Savings
is being launched to show appreciation for everyone who helped Hertz Furniture reach this milestone.
From the very start, exceeding customer expectations has always been a top priority. Hertz Furniture planned the 45th anniversary celebration so that all customers could benefit. Throughout 2011, a different "shop-by-room" will be featured each month. "We want to reward all of our customers with opportunities to benefit from our year-long savings – no matter what type of furniture they need," announced Mr. Saul Wagner, President of Hertz Furniture. Whether shopping for
school furniture
,
office furniture
or
church furniture
, all customers will have an opportunity to save and get a gift.
The celebration kicked off in January. With a minimum purchase of $1000, containing at least one product from the featured room, buyers are presented with the choice of either a $25 gift card, or a $25 discount off their purchase. Every $1000 purchase entitles the buyer to another gift, up to $250 maximum savings. Over the course of the year, a diverse selection of rooms will be featured, including Art Room, Science Lab, Cafeteria, Classroom, Locker and Gym, Library, Preschool, Computer and Training, Sanctuary, and Office. See the website for additional details.
"We congratulate Hertz Furniture on their 45th Anniversary milestone," says Mark Bresler, President of NPS (
National Public Seating
) and OSC (
Oklahoma Sound Corp
). "We applaud their invaluable contribution to the institutional furniture marketplace and their everlasting commitment to customer satisfaction."
When
Hertz Furniture
began as a mail-order company back in 1966, color TV had just become available, Pampers sold the first disposable diapers, and Star Trek debuted. Now, 45 years later, all of these are as popular as ever, because good quality endures. With roots in the lumber industry in the late 1800's, Hertz Furniture later branched out as an institutional and educational furniture operation, selling top vendor products as well as manufacturing first-rate furniture. Quality furniture at affordable prices has been the solid, continuing focus throughout four generations of this remarkable, family-owned business.
To help schools and offices create healthier learning and work environments, Hertz Furniture reviews and certifies eco-friendly furniture companies as part of its Healthy Planet initiative. "Enabling customers to make environmentally healthy purchases is seen by Hertz Furniture as an obligation," Mr. Wagner explains. "We also offer professional design planning, installation, complimentary extended warranties, quick shipping, and customized financing programs… because we are committed to helping customers buy the furniture they need, when they need it."
About Hertz Furniture
For 45 years Hertz Furniture has supplied schools, religious institutions, businesses and government offices with top quality commercial furniture and superior customer service. Speedy Quotes, Quick Ship products, a wide selection of eco-friendly furniture, a free project planning and design service and the best warranties in the industry are just a few of the ways that Hertz Furniture provides added value to its customers. For additional information on Hertz Furniture and its extensive line of products, please visit
www.HertzFurniture.com
, speak to a furniture specialist at 866-229-9296, or send an email to
linda@HertzFurniture.com
.