Customer Insight Group Introduces Customized In-House Social Media Workshops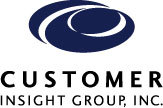 Denver, CO, February 8, 2011 - The experts at Customer Insight Group bring you the Social Media Exploration program to help your company get up to speed, and competitive in all things social media. You can configure the social media workshops as a half-day, full day or two-day event to best meet your needs.
"A 2010 study by Nielsen found that Americans spend almost a quarter of their time online on social networks like Facebook, Twitter, and LinkedIn and blogs. In fact, in 2010, Facebook pushed past Google to become the most popular site on the Internet for the first time, according to two Web tracking firms. Some of your customers are very likely online right now discussing you via blogs or on Facebook," said Sallie Burnett, president of Customer Insight Group.
If there are conversations happening online that involves you and your business, can you really afford not to join those conversations?
As companies are scrambling to build their brand presence on Twitter, Facebook, and YouTube they may be discovering it requires new tools and insight into the best practices to engage with consumers online. Customer Insight Group brings customized workshops right to your doorstep and gets everyone on the team engaged and educated. This tailored approach is more personal, interactive and effective in bringing the entire team along the social media-marketing journey.
Our experts will guide you through the process and help you:
- Learn how your customers are already using social media, including their interactions with your competitors.
- Discover the best social media tools for your brand.
- See how to integrate it with your existing communications channels.
- Develop a plan to build and nurture a community of customers.
- Create fresh, relevant content.
- Set up a dashboard to track and measure results.
ABOUT CUSTOMER INSIGHT GROUP, INC.
Customer insight Group is a leading strategic marketing consulting firm that helps companies engage, retain and grow profitable customers relationships. We help companies assess and improve customer strategy to achieve measurable business objectives. We provide loyalty audits, social media customer engagement programs and innovative loyalty programs.
For more information about Customer Insight Group, visit
http://www.customerinsightgroup.com
or contact Mary Shaw, Customer Relationship Marketing Manager, Customer Insight Group, Inc., 6711 Secrest Circle, Arvada, CO 80007, (303) 422-9758; Fax (866) 611-7363, or
Mary.Shaw@customerinsightgroup.com
.
Email Customer Insight Group