Huggies New Zealand Launches Ovulation Calculator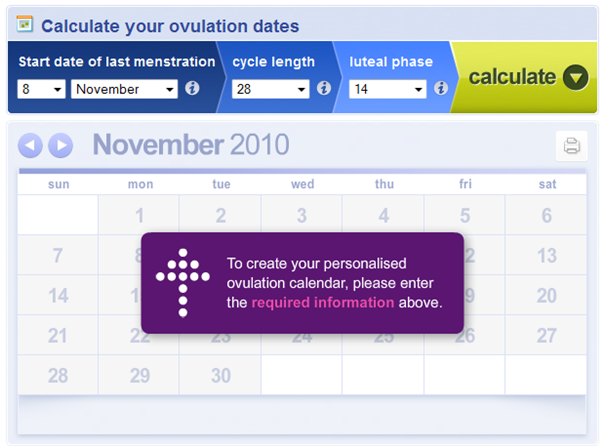 Huggies.co.nz, New Zealand's premier baby care website has released a new tool that calculates ovulation dates for women trying to conceive.
The user friendly application only requires the start date of a woman's last menstruation period to be able to show the most important dates for the user to consider during the month for conception.
The interactive calendar then allows the user to rollover specific dates to discover more information about their chances of conceiving and their fertility levels.
Anybody using the tool then has the option to click on the highlighted dates for even more detailed information about the following:
- The follicular phase
- Hormonal influences
- Identifying ovulation days
- The luteal phase
- And other information on conception
To further refine the accuracy of the most important dates for conceiving, women can then input data on their cycle length and luteal phase range.
The ovulation calculator is free to use for anyone, although users must have Flash Player 10 installed on their computer to run it. To try it out visit the
ovulation calculator
at Huggies.co.nz.
Huggies has been helping New Zealand women conceive for many years through their information, user tips and on site experts – the ovulation calculator is a further way to help women through what can be a difficult time of life.
The Huggies website has long been known as one of the leading online resources for new NZ mums and mums to be, with information, tips and advice on
conception
,
pregnancy
, child birth, baby care and parenting.
Huggies also has one of the largest and most established forums, where mums can share experiences and advice with one another, and has more recently launched the Huggies blogs, including a
conception blog.
For all media enquiries, please contact:
Codey Goodall
Assistant Brand Manager – Huggies New Zealand
649 250 2500
Codey.D.Goodall@kcc.com
About Kimberly Clark
Kimberly Clark is an innovative health and hygiene products company that most kiwis come into contact with everyday. Major brands from Kimberly Clark include Kleenex®, Viva®, Huggies®, Poise®, Depend®, and [U] by Kotex®.
Email Huggies New Zealand