PulseUniform Launches New Home Page, Introduces Other Website Improvements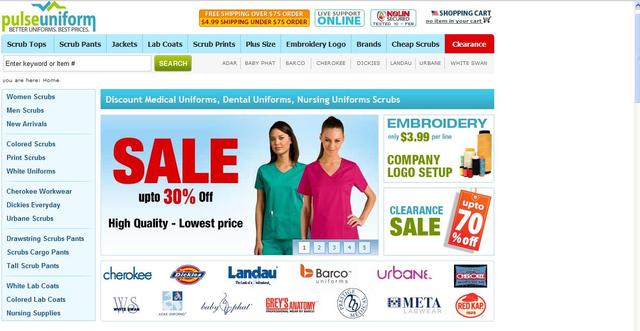 Being true to its corporate value of customer satisfaction, PulseUniform introduced its new home page design and enhanced its web applications this month for a more user-friendly website. The change has been finalized after a rigorous corporate consultation that took place last year. One of the bases of the development was the customer-website interaction data that has been provided by the customer service representatives of the company. The data contains a brief survey on the customers about their experiences using the website. Aside from the home page design, there are also improvements with the searching applications especially in the cheap scrubs page. From there buyers can now filter their searches by category, by price, by size, of by brands wherein on the last option includes vast choices of
Dickies scrubs
, Cherokee uniforms, and many others. These changes are aimed at attaining the highest customer satisfaction possible a best medical scrubs shop can provide.
Rick Garren, co-owner of the company has given remarks through email about the minor changes in the design and promised that the best service given by PulseUniform will surely retain and the lapses will be improved.
"We are excited about these changes. Since day one, we have maximized our workforce in order to achieve our goals. Despite some drawbacks in almost every aspect of the development, the desire to serve our customers better proved to be in great dominance," stated Garren in an email. "Rest assured that all good practices we have embraced over a span of 7 years will be retained and all our lapses will be corrected as part of the development. We will remain the best
cheap scrubs
retailer online," he added.
As of the moment, the company has already been added hundreds of new medical scrubs in their warehouses to par with the demands they are getting from clients. Manufacturers the same way have already expressed interests over a long term production and supply of their brands which includes the Dickies scrubs, Barco Uniforms, Cherokee workwear, and many more.
Part of the said development, the company will also offer perks and other promos on major
medical scrubs
from time to time. Customers can directly browse their clearance sale page for marked down items or their discount page for promotional items. Their $75 free shipping is still retained in order to give more savings to their customers.
For more information, PulseUniform's customer service representatives can be reached through phone at 1.866.967.8573 24 hours a day 7 days a week. Suggestions and questions can also be sent to
info@pulseuniform.com
or through the online chat application that can be found on the upper part of their homepage.