Go Modern gets serious about wardrobes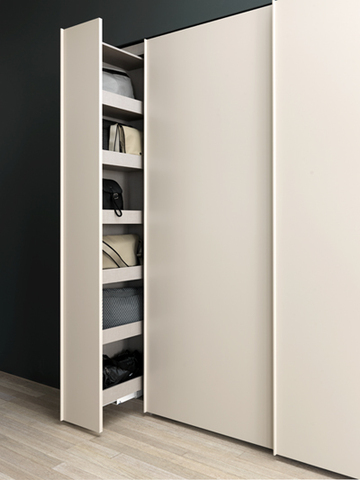 London based contemporary furniture specialist Go Modern have been supplying & installing wardrobes & bedroom furniture since 2008, but 2011 sees their collection almost double to include several innovative new designs, ensuring that they now have the largest range of customisable wardrobes in the United Kingdom.
Working exclusively with Italian suppliers the new collections will of course expand the variety of colours & finishes available, but the most noteworthy part of these new ranges are the unique options they offer the customer. Features available now include
- Slide out handbag (or hat) storage. Taking up just 30cm of width these are similar to kitchen modules, reaching 60cm back to the rear of the wardrobe, with between 5-7 shelves so handbags can be stored upright & easily seen. Side by side handbag storage provided is 360cm (12 feet), enough for most hat/handbag collections.
- 'Paint Your Own Wardrobes.' A high tech new finish for wardrobe doors allows you to paint them using standard water based emulsion. Any colour or brand of paint can be used, so recessed wardrobes can now blend seamlessly into the surrounding walls.
- Self Supporting Walk In Wardrobes. Walk in wardrobes have back panels which usually need to be fixed solidly to the wall as they support shelves, hanging rails, drawers etc. The new 'Wing' walk in wardrobe is completely self supporting so does not not require fixing, which makes it considerably easier to move & allows it to be installed away from the wall, or where walls may not be strong enough to support a standard walk in wardrobe.
- Walk In Wardrobes in coloured lacquer. As a rule walk in wardrobes have only been available in various wood finishes, however in a contemporary home they may look somewhat out of place. Go Modern has three collections of walk in wardrobes available in matt lacquers, in a wide range of colours.
- Curved wardrobes. These wardrobes have the option for end & corner modules to have curved doors, similar to the very latest contemporary kitchens. Available in a number of matt lacquer colours they provide an elegant & modern look.
With the addition in late 2010 of two CAD/Wardrobe design specialists Go Modern are fast becoming one of the UK's premier suppliers of upmarket contemporary wardrobes.
Contact Information
Tina Mahony
Go Modern Ltd
020 7731 9540
Contact Us