Investment in Infographics Pays off - Al Bayan Scoops Ten Best of News Design Awards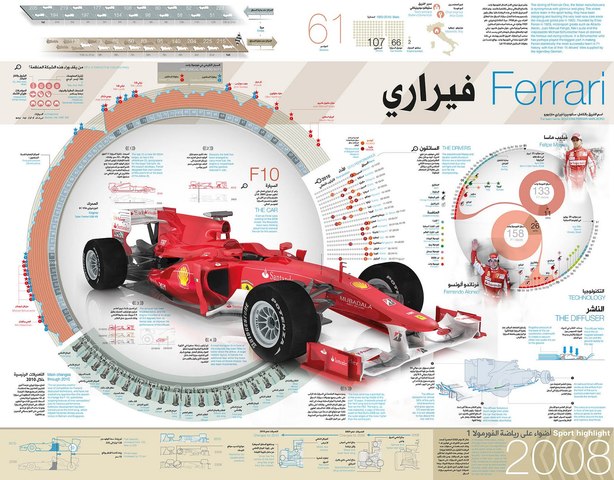 Al Bayan, Dubai's leading quality Arabic newspaper, received a coveted silver medal and nine awards of excellence in this year's Best of News Design competition. The paper emerged as the best-designed Arabic-language title in the competition, indicating that Al Bayan's decision to hire a team of top visual journalists is paying off.
The jury was impressed with Al Bayan's extensive coverage of the 2010 Formula 1 Grand Prix at Abu Dhabi's Yas Marina Circuit and especially the use of elaborate information graphics throughout.
Al Bayan also scooped several awards for its innovative infographics illustrating the FIFA World Cup in South Africa last year. Both projects were realised by the paper's information graphics desk in close cooperation with Al Bayan's editorial team and Dubai Media Incorporated's (DMI) management.
"It is a real honour to join the ranks of such prestigious papers from all over the world and a fantastic achievement for the UAE to have an Arabic paper that is setting new benchmarks in information graphics projects in this region," said Luis Chumpitaz, Al Bayan's Infographics Director.
Since hiring Chumpitaz in 2007, Al Bayan has steadily expanded its information graphics team in a bid to take the lead in data visualisation and visual journalism in the Arabic-language press. Al Bayan's multiple-award-winning infographics desk now also includes Information Graphic Editors Liz Ramos and German Fernandez and the designers and journalists William Navarro, David Macedo, Karina Aricoche and Asma Ali.
AL BAYAN DRIVES DEVELOPMENT OF VISUAL JOURNALISM IN ARABIC NEWSPAPERS
With these ten awards, Al Bayan solidifies its position at the forefront of visual journalism in Arabic-language newspapers across the region, followed by the recently redesigned Al Shabiba newspaper from Oman, which received eight awards.
Al Bayan's success at the Best of News Design competition, held every year by the Society of News Design (SND), is a sign that the rise of innovative news design in the Arabic-language press is beginning to gain international recognition.
INTERNATIONAL PRAISE FOR AL BAYAN'S FORMULA 1 INFOGRAPHICS
Michael Agar, Head of Graphics at the Telegraph Media Group, United Kingdom: "Information, visualisation, drama – the very basic reporting requirement of all Formula 1 coverage. With this wonderful supplement, Al Bayan has raised the journalistic bar for any news media company around the world. Page after page, team by team, so much information has been analysed and displayed in high-quality detail. Expert illustration crafted by the newspaper industry's finest team of visual journalists."
John Grimwade, Graphics Director at Condé Nast Publications, United States: "These are infographics of a very high quality. They are beautifully illustrated and clearly designed for a sophisticated reader. It is refreshing to see the exciting use of space, with no unnecessary boxes around the elements. The hierarchy is maintained through size, colour and typography. The overall effect invites the reader to engage with these subjects. Lots of information but very approachable. An impressive standard, indeed."
Juantxo Cruz, Information Graphic Director at El Mundo, Spain: "Visuals are really important in journalism nowadays. New readers don´t have time to read everything coming to them via email, twitter, blogs, traditional newspapers, facebook or all the other sources of information. Al Bayan are shocking the world with these stunning works. They are clear. I see a great graphics direction. They are not only infographics, they are amazing posters! Illustrations are excellent. That´s quality. That´s different. That´s the real power of the Dubai news media. Congratulations to all your team!"
ABOUT THE BEST OF NEWS DESIGN AWARDS
SND is the leading organisation dedicated to improving news design and information graphics. Now in it's 32nd year, the SND's Best of News Design competition attracted more than 10,000 entries, which were judged last weekend in Syracuse, New York. Competing against entries from 38 countries, Al Bayan is one of only two Arabic-language papers represented in the prestigious annual Best of New Design competition. Details of how many awards each newspaper won and which designs won in the various categories has already released an official list of publications that collected most prizes on
www.snd.org
.
ABOUT AL BAYAN AND DUBAI MEDIA INCORPORATED
Al Bayan was founded in 1980 and is the oldest Arabic daily newspaper in the UAE. It belongs to the Dubai Media Incorporated (DMI), a pioneering media organization focused on innovation, quality and working in line with the strategic objectives of the Government of Dubai. Under its umbrella, DMI comprises a number of print, radio and TV channels including: Dubai TV, Al Bayan newspaper, Sama Dubai, Dubai One, Dubai Sports, Dubai Racing, Noor Dubai Radio & TV, Emarat Al Youm, Emirates Business 24|7, and Masar Printing Press. The various TV, radio and press channels operate to provide quality materials each according to its competence and in accordance with a comprehensive strategy to meet the aspirations of all segments of the public in various categories and ages.
For more information, please visit:
www.dmi.ae
www.albayan.ae
For press enquiries only: +971 (0)4 344 4400