Local Canton Restaurant, Hayden's Grill and Bar, Provides Seasonal Variety in their Menu Selections; Franchise Opportunities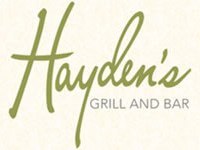 CANTON, Mich. –
Hayden's Grill and Bar
keeps things fresh with an ever changing food and drink menu designed to bring out the flavors of the season.
Hayden's menu, featuring comfort foods with an innovative twist, provides a wide range and variety of starters, entrees, desserts, drinks and more. The new seasonal menu options present even greater variety compared to other
Detroit restaurants
and allow visitors the unique opportunity to try something different on every occasion. Hayden's goal is to portray each season's unique flavor and truly bring it to life through the seasonal menu choices.
"First and foremost, we are about the food. We believe in taking menu items and giving them an upscale twist," said Brent Skaggs, owner. "Our menu also changes throughout the year, with seasonal selections that allow us to be creative and experiment with different flavors."
This experimentation does not end with the food. A variety of seasonal drinks are also available including a winter favorite, Choco Mint Tini, made with Baileys, vodka, Dark Crème de Menthe and Light Crème de Cacao. The restaurant boasts an expansive drink menu of over 100 unique drink selections ranging from specialty martinis to the coldest draft beers around, served from unique frozen taps.
The choices can be overwhelming, which is why Hayden's also offers visitors the chance to try a "flight of martinis". A martini flight includes your choice of three of Hayden's specialty martinis. From the Beach Tini to the Frappatini, Hayden's offers options for every season.
"We believe that consumers are tired of the out dated concepts that offer marginal quality and a dated atmosphere," said Skaggs. "Instead, we know that customers, if given a choice, will go to a place that elevates the dining experience without elevating the prices."
Hayden's focuses on providing an upscale atmosphere and dining experience at a casual dining price. The restaurants new seasonal menus complement this effort and allow customers to enjoy exceptional food, drinks and service during any season of the year.
For Business owners and entrepreneurs, Hayden's also offers
franchise opportunities
. To learn more about owning your own Hayden's visit
www.haydensgrillandbar.com/franchise
.
Email Hayden's Grill and Bar