Waytek, Inc. Announces New Molex Mini Fit Jr. Connectors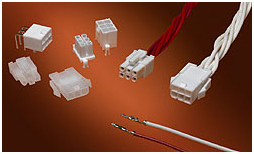 Chanhassen, MN, March 1, 2011 – Waytek, Inc., a leading distributor of electrical supplies, announced today the availability of the new
Molex Mini-Fit Jr. connectors
for high-current, high-density applications that require flexible wire- to-wire and wire-to-board configurations. Ideal for a variety of power applications up to 9.0A per circuit, Mini-Fit Jr. connectors are available in dual-row or single-row 2-to-24-circuit options. For most applications, these connectors feature multiple plating and material selections.
Molex Mini-Fit Jr. connectors are designed for use in a wide variety of consumer and industrial applications, from household appliances and desktop computers to industrial production equipment, automation equipment, and enterprise-level networking appliances. Built for maximum design flexibility, Molex Mini-Fit Jr. connectors are available in wire-to-wire and board-to-board applications, and with both vertical and right-angle header configurations for use in a broad range of applications.
These connectors feature polarized housings to prevent mismating, positive housing locks to prevent accidental unmating, fully isolated terminals, and low-engagement forces. All components are lead-free and compliant with the Restriction of Hazardous Substances Directive and other global material standards. Molex Mini-Fit Jr. connectors are also UL recognized, CSA approved and TUV licensed.
Visit
www.Waytekwire.com
for an extensive line of connectors and other electrical wiring supplies. Orders may also be placed by phone through a Waytek customer service representative at 800-328-2724, Monday through Friday from 7:30am until 6:00pm central time.
About Waytek, Inc.
Waytek, Inc. is a privately held company which offers quality electrical wiring supplies. With over 6,000 products in stock, Waytek's extensive line includes wire, connectors, electric relays, switches, cable ties, heat shrink and many more wiring accessories.
About Molex
Molex is a leading supplier of electronic, electrical, and fiber optic interconnect products with an extensive portfolio of reliable product solutions that touch virtually every walk of life. Molex is a one-source design, development, and distribution company that focuses on innovation and product performance.