VAC-U-MAX 1020 Portable Industrial Vacuum Cleaners Rapidly Handle Piles of Nearly Anything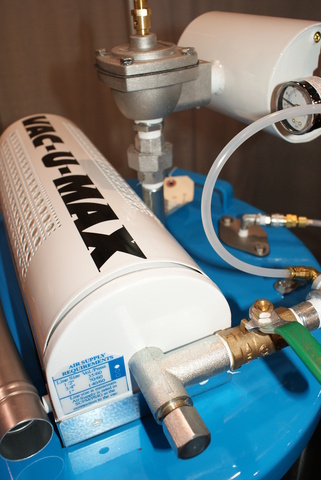 (PRLEAP.COM) BELLEVILLE, NJ — When searching for
industrial vacuum cleaners
, users may assume they need a custom, one-of-a-kind solution when their application actually calls for a pre-engineered product. Most applications require standard equipment that offers option capabilities to best fit an application.
The VAC-U-MAX 1020 is a versatile machine that will collect just about anything! Whether it is vacuuming steel shot, tons of Trona, or materials in an ethanol plant, the heart of VAC-U-MAX's 1020 industrial vacuum cleaners is a positive displacement, rotary lobe pump, making it different from other portable industrial vacuums on the market.
The Positive Displacement, Rotary Lobe Vacuum Pump provides superb airflow performance at high vacuum, giving manufacturers the ability to vacuum material easily from piles or long distances. The continuous duty 1020 comes in three models, including the explosion proof MDL1020MFS and is available with either a 10hp or a 15hp motor that efficiently cleans up tons of steel shot in one-fifth the time as manual removal, or economically sucks up three to five tons of powder per hour.
Any of the 1020 models can be used as a central vacuum source. It is common for customers to install tubing networks in areas of their plant and connect the 1020 to the tubing header. VAC-U-MAX calls this a "breakaway"
central vacuum
, because the vacuum can be disconnected from the permanent tubing and moved about in its portable configuration, maximizing investment by rolling the 1020MFS where it's needed, and putting it to work, reducing labor and housekeeping costs.
Beyond reducing housekeeping costs,
industrial vacuum cleaners
are ideal for complying with OSHA and other regulatory agencies policies regarding fugitive and secondary dust, that plague most industries. Despite preventive dust suppression systems and precautions taken in the manufacturing industry to protect workers from respiratory hazards, the CDC estimates that nearly 30 percent of adult asthma and chronic obstructive pulmonary disease (COPD) cases are attributable to occupational exposure.
The standard Static-Conductive Leaf-type PTFE high efficiency filter, rated 99.9% efficient @ 1 micron, 30 sq. feet surface area, of the VAC-U-MAX 1020, and the secondary filter cartridge located ahead of the pump, with optional HEPA filter, leads to a better respiratory environment for workers.
"Using industrial vacuums isn't new to industrial manufacturers, but many companies are unaware that most applications for industrial vacuums require standard equipment that offers option capabilities to best fit to an application," says David Kennedy, GM of the vacuum cleaning division at VAC-U-MAX.
Since the manufacturing community and regulatory bodies became more proactive in addressing dust accumulation and secondary dust sources, the use of off the shelf industrial vacuum cleaners has quickly become a standard housekeeping tool.
Models like VAC-U-MAX's 1020 continuous duty, portable vacuum cleaner give manufacturers the benefits of central vacuum cleaning system at a fraction of the cost.
For more information about
industrial vacuum cleaners
for cleaning up large volumes of powders, heavy debris like steel shot, or explosive powders, contact VAC-U-MAX at 69 William Street, Belleville, New Jersey, 07109, call (888) 759-4600, or visit the website at
www.vac-u-max.com
.