The Pew Law Center's Mesa Offices Move to New Location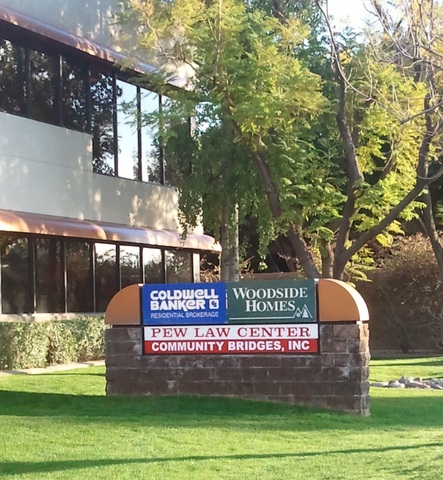 The
Pew Law Center, PLLC
has moved to its newly renovated, spacious and high tech offices at 1811 South Alma School Road, Suite 260, Mesa, AZ 85210.
The firm, which has offices in Mesa and Phoenix, outgrew its original Mesa offices located just across the street from the new address. The expanded space allows Pew Law Center's Managing Bankruptcy Attorney Lawrence "D" Pew Esq., to increase staff and expand client services to keep up with the growing needs of individuals who have been struggling with financial trouble, endless creditor calls and looming foreclosure.
"In today's tumultuous economy, we have worked hard to build a staff of the most knowledgeable legal authorities in
bankruptcy
, tax and debt management in the Mesa area," Pew said. " Our growing staff and new, state-of-the-art office technology and services make it clear to our clients that we are committed to their care."
The Pew Law Center incorporates a new, fully automated communication system that allows its attorneys to walk clients through the bankruptcy process, foreclosure, relentless creditor calls, garnishment and more, while providing comprehensive professional guidance from start to finish.
The
Arizona bankruptcy
and debt relief attorneys of the Pew Law Center represent the legal rights of individuals by focusing on a hands-on, aggressive advocacy policy throughout the process, until the client's debts are discharged or reorganized into a payment plan.
About Pew Law Center:
The Pew Law Center is experienced in all matters involving filing for bankruptcy in Arizona including foreclosure and bankruptcy, chapter 7 bankruptcy, chapter 11 bankruptcy and chapter 13 protection, stopping garnishment,
taxes
and bankruptcy, car repossession, credit after bankruptcy and more.
With offices in Phoenix and Mesa, The Pew Law Center PLLC serves residents of Phoenix, Mesa, Gilbert, Tempe, Chandler, Apache Junction, Scottsdale, Paradise Valley, Fountain Hills, Queen Creek, Ahwatukee, Casa Grande, Florence, Superior, Globe, Flagstaff, Payson, Prescott, Tucson, Avondale, Peoria, Cave Creek, Maricopa County and Pinal County.
To learn more about the firm and how they may be able to help you with your individual situation, visit their websites at
PhoenixBankruptcyCenter.com
or
PhoenixTaxCenter.com
today.
Email Pew Law Center, PLLC