Mosley Tribes Sunglasses Available at Eyegoodies.com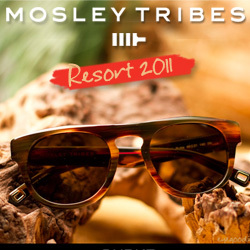 The much anticipated
Mosley Tribes Sunglasses
resort 2011 collection has arrived and is now in available at Eyegoodies.com.
Launched in 2005 by Oliver Peoples' founder and Creative Director Larry Leight, Mosley Tribes blends the timeless luxury traits of Oliver Peoples with a contemporary urban aesthetic. Using durable light weight frame materials and the most advanced hi-tech lenses, Mosley Tribes bridges the gap between fashion and function. Timeless classics are redefined with a fresh modern feel perfectly suited for today's active lifestyle.
The new Spring / Resort 2011 collection features frames in a variety of natural tones and finishes, as well as frames with textured bridges and temples. Some great unique colors from the line include: "Matte El Mirage", "Karrimor tortoise", "Tiger tortoise", and rugged army green.
Some noteworthy new pieces from the collection include the Mosley Tribes Burke sunglasses, which have a cool and refined shape; they're rounded and slightly contoured with a classic key hole bridge. Or Mosley Tribes Lyndel sunglasses, which are contemporary classics. New for the 2011 Resort collection these rectangular wayfarers are offered in army green and the really nice Matte El Mirage tortoise. For a bit more flare, the Mosley Tribes Hayes sunglasses are crisp plastic aviators with textured metal temples. Offered in the very fresh black with gold temples.
Mosley Tribes sunglasses offer a wide range of styles built for the modern active lifestyle, from the classic wayfarer to one of kind aviators. The entire new Mosley Tribes Resort/Spring 2011 collection is now available at Eyegoodies.com.
SHOP:
Mosley Tribes Sunglasses
Read more in our blog about:
Mosley Tribes Sunglasses
©eyegoodies.com (
http://www.eyegoodies.com
) - This article may be reproduced - but links must be unchanged and credit and link must be given to eyegoodies.com.