The Next Step in Business Intelligence and Management: Balanced Scorecard for IPad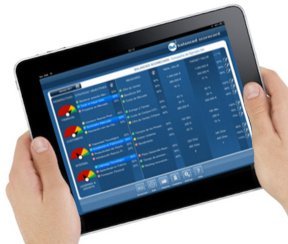 Madrid, March 9, 2011—It's no secret that iPad has become one of the best delivery tools for business intelligence (BI), management and financial. Its form, lightweight design, and connectivity has caused rapid adoption by companies that need to extend the reach of their business intelligence data and provide pervasive access to performance results. Indeed, the executive suite and top managers have seen how accessibility to performance results can improve operations and increase management productivity.
The modern version of the balanced scorecard system transforms an organization's strategic plan from an attractive but passive document into the "marching orders" for the organization on a daily basis.
It provides a framework that not only provides performance measurements, but helps business planners identify what should be done as well as what should be measured. It enables executives to truly execute their strategies.
The concept of the balanced scorecard is not new, it is a methodology developed by Dr. Robert Kaplan and Dr. David Norton of Harvard Business School. The system is used by seventy-five percent of Fortune 500 companies to develop, monitor and measure their company's performance against their strategic goals.
Very few other businesses are controlled with this method of aligning actions with company goals and visions. The launch of
Balanced Scorecard
means that companies of all sizes are now able to take advantage of the same management tools previously used by only corporations and government.
Sometimes less is more. ironically, iPad has proven this. A comprehensive balanced scorecard implementation running on a desktop or laptop is probably useful to certain managers. However, most managerial and executive roles would likely benefit from a lightweight implementation even if it wasn't a comprehensive solution. This is what Business and Strategy (BsC) is betting on.
Balanced Scorecard is essentially a dashboard that helps users control their business from their iPad, by monitoring and measuring the effectiveness of their activities.
Users can management easily and create a scoreboard for each project, adding unlimited objectives and indicators for four perspectives:
-Financial
-Customers
-Internal Process
-Human Resources
The app does the analysis and displays the results, complete with colored light indicators, so users can quickly and easily track how they're doing. WiFi and 3G users are able to generate reports adn financial informs, based on a specific month or perspective.
These are some of the features offered in Balanced Scorecard App:
* Easy, intuitive interface
* Display screen with graphics and color light indicators
* Define strategic objectives
* Identify Key Performance Indicators (KPI)
* Unlimited objectives and indicators by project
* Compare actual and target values
* Analyze variances and Financial data
* Build reports per month and perspective
* Introduce strategic initiatives to improve and monitor
* Multi-company capabilities
* Multi-language support
* Guaranteed security with username and password
"Management your Business is easy with this app"
You don´t need to be a financial expert.
Device Requirements App:
* iPad; 3G or WiFi for Reports only
* Requires iOS 3.2 or later
* 2.9 MB
Pricing and Availability App:
Balanced Scorecard for IPad 1.1 is only $24.99 (USD) and available worldwide exclusively through the App Store in the Business category.
Promo codes are available for qualified reviewers. Please specify the website or blog you represent when making your request.