Waytek, Inc. Announces New Molex Mini Splash Connectors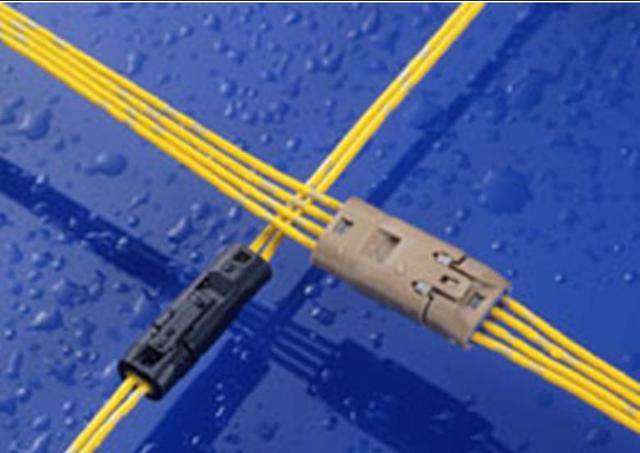 Chanhassen, MN, March 9, 2011 – Waytek, Inc., a leading distributor of electrical supplies, announced today the availability of new Splash Proof connectors from Molex, the leading one-source global supplier of interconnect products. The
Molex Mini Splash Connector
is a 2.50mm (.098") pitch water-resistant wire-to-wire connector system delivering 3A per circuit. Available in 2-to-4-circuit sizes, these connectors meet JIS (Japanese Industrial Standards) DO203S2 waterproof compliant standards, and are ideal for automotive applications such as wipers, switches, and mirror motor harnesses. Molex currently offers two different families of Splash Proof connectors designed for various applications in which waterproofing is necessary.
Molex Mini Splash Connectors features an integral housing seal for simple assembly and water protection. A unique seal stopper provides excellent waterproofing and low insertion force (for some circuits, a cap-fitting tool may be needed to lock the seal into the housing). User-friendly friction locks save space and protect the latch, providing a secure connection every time. A raised, split-beam male terminal design and polarizing ribs ensure proper mating by preventing incorrect terminal insertion, while female terminals include a unique spring-beam design that provides high-pressure and small-deflection for high-vibration applications. In order to suit the needs of a wide variety of applications, each Molex Splash Proof connector system differs slightly in size and color.
Visit
www.waytekwire.com
for an extensive line of Molex connectors and other electrical wiring supplies. Orders may also be placed by phone through a Waytek customer service representative at 800-328-2724, Monday through Friday from 7:30am until 6:00pm central time.
About Waytek, Inc.
Waytek, Inc. is a privately held company which offers quality electrical wiring supplies. With over 6,000 products in stock, Waytek's extensive line includes wire, connectors, electric relays, switches, cable ties, heat shrink and many more wiring accessories.
About Molex
Molex is a leading supplier of electronic, electrical, and fiber optic interconnect products with an extensive portfolio of reliable product solutions that touch virtually every walk of life. Molex is a one-source design, development, and distribution company that focuses on innovation and product performance.