Get the Ultimate Audio Engineering Scholarship from Sonic Electronix | Apply Now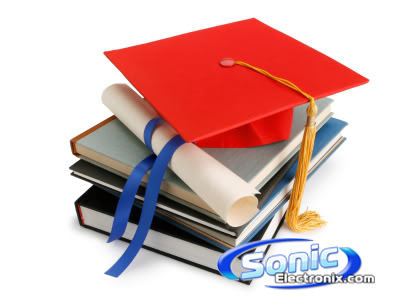 Los Angeles, Ca. March 15, 2011 - Are you an audio enthusiast and looking for a scholarship opportunity? Get $1000 towards your education from
www.sonicelectronix.com
.
The Sonic Electronix Scholarship is intended for students who are enrolled in undergraduate, graduate and non-traditional educational institutions that offer degrees in automotive engineering or automotive sound fields.
To be eligible for the Sonic Electronix Scholarship, applicants are asked to write a 500 word essay on their future plans in the industry of their choice and meet the following criteria:
- Minimum 2.5 grade point average
- Must be enrolled, or applying to a full-time program of study at an accredited university, college, or vocational/technical program in the United States.
- Pursuing studies leading to a career in the automotive aftermarket or related field of consumer electronics.
- Must remain enrolled as a full-time student for the first full semester following the award.
Sonic Electronix is based in the heart of Southern California in the Santa Clarita valley, 40 minutes north of Los Angeles. Founded in 2000, Sonic Electronix has always strived to become the one-stop shop for consumers of electronics including car audio and
DJ equipment
. The Sonic Electronix mentality to "e-tailing" is to provide an exceptional shopping experience, honest advice and competitive prices.
Take advantage of this opportunity to pursue your education and showcase your skills to make a difference in the industry. Register now for a chance to receive a $1000 Sonic Electronix Scholarship.
Contact:
Marketing@sonicelectronix.com