Local Canton Restaurant, Hayden's Grill and Bar, Freshens up Menu with Spring Flavors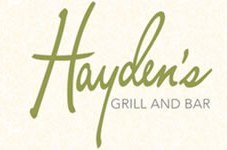 CANTON, Mich. – Hayden's Grill and Bar, a local Canton, Mich. restaurant, freshens up there menu with spring inspired options.
It is finally warming up outside and so are our taste buds.
Hayden's Grill and Bar
suggests several spring dishes designed to instill the hope of warmer weather yet to come. Hayden's Strawberry Salad, featuring crisp spring mix lettuce topped with fresh strawberries, grapes and cashews, and served with poppy seed dressing is just one of the many spring selections. Some of the other spring options include Hayden's Green Apple and Cherry Salad, Cherry Chicken and Chicken Salad Panini.
"First and foremost, we are about the food. We believe in taking menu items and giving them an upscale twist," said Brent Skaggs, owner. "Our menu changes throughout the year, with seasonal selections that allow us to be creative and experiment with different flavors."
The food choices are not the only menu items to receive a spring time twist. Hayden's extensive drink menu, offering over 100 unique drink selections ranging from specialty martinis to the coldest draft beers around, also offers spring inspired renditions.
Spring martini options include Blueberry Lemon Drop, Cherry Cordial, Lemon Meringue Martini and more. If the martinis are not enough to have you ready to slip on your flip flops and sunglasses, nothing is more reminiscent of warmer weather than a nice cold draft beer, served from Hayden's own unique frozen tap system.
"In developing the Hayden's concept, we feel that there is a great opportunity in the casual dining segment to offer something that others have not been able to do," said Skaggs. "We believe that consumers are tired of the out dated concepts that offer marginal quality and a dated atmosphere. Instead, we know that customers, if given a choice, will go to a place that elevates the dining experience without elevating the prices."
Other
Canton restaurants
may also offer seasonal choices, however, Hayden's does so with a focuses on providing an upscale atmosphere and dining experience at a casual dining price. The restaurant's spring menu options complement this effort and allow customers the opportunity to enjoy exceptional food, drinks and service during any season of the year.
For Business owners Hayden's also offers
franchise opportunities
. To learn more about owning your own Hayden's visit
www.haydensgrillandbar.com/franchise
Email Hayden's Grill and Bar