Aqualux Now Offers Aviation Cleaning Services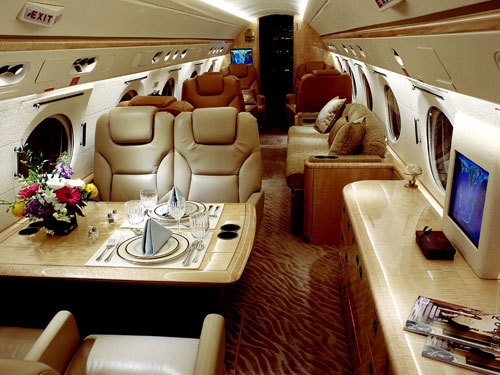 The Dallas-based carpet cleaning company Aqualux has now added another department to their expert cleaning services and maintenance. Aqualux now cleans all high and low wing aircrafts. Aqualux only uses the safest cleaning method which is hot water extraction, more commonly known as "steam cleaning". Pressurized hot water extraction effectively removes all dirt, stains, and residue from your carpets.
Planes get dirty after frequent use, and whether you're spilling a Coca-Cola or a bottle of Dom Perignon; spills can become an unfortunate and sticky mess. Planes that are frequently used will typically have high traffic areas that will routinely need a deep cleaning carpet treatment. Many private jets are constantly being flown back and forth, and keeping an upstanding and elegant image is a must. After a session with an Aqualux technician, your plane's floor will look sparkling and spotless! Time is of the essence, and Aqualux uses only the best machine technology that cuts significantly down on drying time.
Do you have pet hair & odor issues on your plane? It's critical that you thoroughly clean pet urine stains properly, because bacteria will continue to grow in a spot, as long as there is moisture or a food source. If passengers are allowed to bring pets on a private plane, pet dander will always be released. Sufficient cleaning is important because one of your next passengers could be allergic to domestic animals. Studies have shown 15 to 30% of people with allergies display allergic reactions to cats and dogs. Pet urine and odor stains can be a hassle to get rid of because of the enclosed spaces, but Aqualux uses a stain-blasting Aquamaxx Solution that uses antibacterial agents, and leaves your carpets smelling fresh. Our Aquamaxx Solution will remove bacteria from spills, food, mildew, and other contaminants. The Aquamaxx cleaning solution has carpet deodorizers that will help hold a lasting fresh scent, and it's safe & non-irritating. Aqualux also believes in creating a more sustainable environment, therefore all of Aqualux cleaning products are environmentally friendly, and non-toxic. Also, Aqualux understands that your time is important, and we treat our customers with respect. When you schedule a clean with Aqualux carpet cleaning, you get a set appointment time, not a 5 hour window like other companies. Also, Aqualux has high expectations for our technicians. Aqualux technicians are drug screened and are background verified, because we want our customers to have trust in our company.
Aqualux also offers the best cleaning for your upholstery items on your plane. If your streamline jet has curtains, it is always wise to have the curtains routinely cleaned because this is a prime dust collecting zone. This dust buildup can trigger allergy and asthma related problems, and dust allergens can turn a relaxing plane ride into a nightmare. Aqualux's cleaning method passes the colorfast testing method, and promises a 30-day warranty. Aqualux will help preserve your aviation fleet's image of cleanliness and prestige. Let's stop cutting corners, and get onboard with a deep cleaning treatment that gives your passengers the satisfaction they deserve.
Aqualux carpet cleaning serves all over the Dallas-Fort Worth metropolis.
Email Aqualux Carpet Cleaning