ProExhibits Launches New Avanti Product Line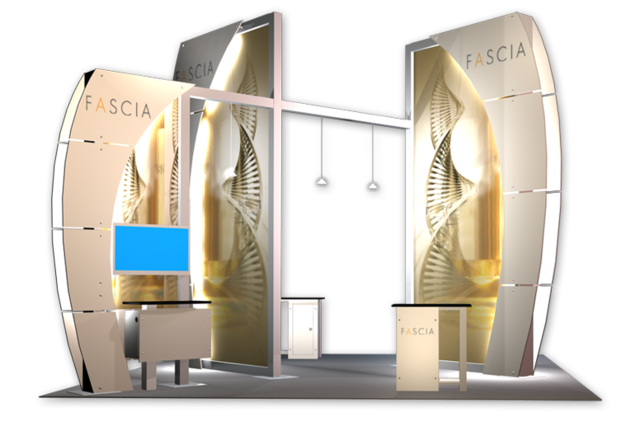 ProExhibits – the prestigious Sunnyvale, California event and exhibit design, fabrication and management agency – announces the debut of its unique product line called Avanti.
Avanti is a
custom modular trade show exhibit
solution that is eye catching and custom in appearance. With Avanti, exhibitors have the ability to create unlimited custom one-of-a-kind designs. It features extraordinary attention to detail in its fit and finish. True to its name, Avanti in Italian means "moving forward". This revolutionary exhibit system serves a variety of requirements such as design freedom, cost efficiency, display flexibility and dramatic presentation.
Additionally, the Avanti line features uniquely versatile pre-designed and pre-engineered trade show exhibits that are available in over two dozen individual design formats. Also, thanks to its superior design flexibility, small island exhibits can easily be converted to a 10x20 or a 10x10 square foot exhibit.
According to Dick Wheeler, President of ProExhibits, "We are excited about our new Avanti product line. It is a true breakthrough. It offers our clients the ability to create endless custom designs. Because it is also compact, lightweight and easy to assemble, our clients can keep their operating costs such as freight, drayage, installation, storage and refurbishing to a minimum."
"Avanti features a combination of extruded aluminum, frosted plex and a variety of different shades of wood finishes and custom elements as well as dramatic lighting opportunities. Avanti exhibits are certain to stop traffic on the trade show floor. With stunning custom designs and images, they make a lasting impression for all who see these incredible exhibits," Wheeler adds.
About ProExhibits
ProExhibits is an award-winning event and exhibit design, fabrication and management agency serving clients worldwide. ProExhibits is well-known for turnkey, cost-effective solutions. They also create unique events, in addition to
custom trade show exhibits
, modular and portable
trade show exhibits
and
trade show exhibit rentals
. ProExhibits specializes in exceeding client expectations, exemplified by a 99% customer satisfaction rating. ProExhibits has assembled a highly experienced team of experts. They welcome the opportunity to utilize their combined talents, resources and industry knowledge to guarantee your success. ProExhibits | 1188 Bordeaux Drive, Sunnyvale, California 94089 | (408) 734-3600 |
www.proexhibits.com