"The Nudie Artist: Burlesque Revived" Opens March 31 at the Museum of Sex featuring portraits by photographer Leland Bobbe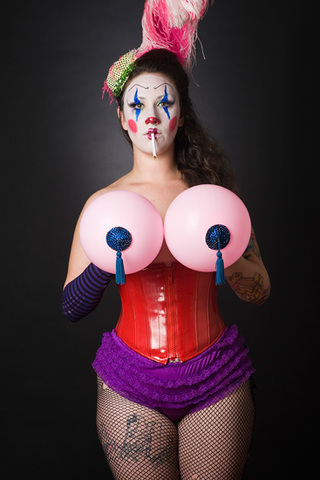 The power of burlesque is rooted in the charisma the performer exerts over the audience. On stage, the artist controls the illusion of what is and is not revealed. As artists, the burlesque community is quick to block general photography, which makes the attendance of a performance a one-of-a-kind event. Leland Bobbé, alongside his producer wife Robin Bobbé, worked collaboratively with burlesque performers to craft images which removed them from the stage and served to highlight the formalized essence of their character as individuals and as a persona. Bobbé's photographs further present the spirit behind each performer and the individual approach taken in the art form of burlesque. Nudity is a secondary element to the art and the individual.
The photographs exhibit an honest grittiness, capturing a diverse array of body types portraying confidence and comfort in one's own skin rather than an airbrushed representation of fantasy. Bobbe has been photographing the series since November 2008.
Bobbe states, "I was in high school, sneaking off to New York City with my friends to see my very first burlesque show – it was the most forbidden and exciting thing I'd done.
Fast forward to the '90s and Mayor Giuliani's sanitizing of New York's night life and the rejuvenation of Times Square turning the once notorious and legendary neighborhood into a hybrid of Vegas meets Disneyland. New Yorkers reacted against this newfound wholesomeness seeking out that high‐brow/low‐brow entertainment that had been taken from them. In part, as a reaction to this, emerged the Neo‐Burlesque scene in the late '90's filled with glitz, glitter, feathers, rhinestones and a healthy dose of attitude. The current scene is a backlash against what American society seems to be currently mass marketing, the corporate blandness of modern entertainment. To the contrary, it is nervy and unpredictable. Performers with names like Dirty Martini, NastyCanasta, Clams Casino, Legs Malone, and Delirium Tremens reflect this.
In addition, American standards of female beauty are being challenged and turned on its head. Here all body types are welcome and accepted…what is important and exciting to the audience is that the performer is comfortable in their own skin, not whether or not they have that airbrushed show girl look.
I thought that photographing burlesque performers in a style that reflected the realness and grittiness of the New York Neo Burlesque scene would be an exciting project. Researching my idea I found that most photographs of burlesque performers were either shot during live performance, shot in a "behind the scenes" documentary style or in a pin‐ up style. I photographed these portraits in a very real, honest and non‐posed style revealing something unique about each performer and their approach to burlesque."
In 2010 Bobbé won 9 awards for this series including Graphis Photography Annual, Graphis 100 Best in Photography; International PX3 Award and was featured in Time Out New York.
The Nudie Artist: Burlesque Revived exhibition allows visitors to peek inside the world of burlesque and see it from a personal angle. Inspiring artwork, personal photos and rare footage of the time, as well as costuming will be on display to provide a glimpse into the past life of an art form that is resurging in today's modern world.
About OrangeAlloy
Orange Alloy is a boutique, management and strategy advisory company. With our custom approach; grasp of American and European taste, customs and culture; and strong client list of industry professionals we have realized our vision to create a single company with a total solution for maximizing new business opportunities, across a multitude of media platforms.
We specialize in creative partnership deals and strive to take our clients diverse skills to the optimum level of development, sustainability and quality, exhausting all creative outlets, merchandising, licensing and digital media offerings.
OA was formed to expand and maximize FOTO&ART PROJX continued growth and presence; our goal is to lead the industry with image-makers, artists, storytellers providing creative content throughout various markets worldwide. Through our sister company FOTO&ART PROJX we continue to consult with artists guiding them towards their individual goals.
With an eclectic and highly respected international talent roster our aim is to unite the gap between imagemakers and the merging digital media offerings and new business opportunities.
www.orangealloy.com
About The Museum of Sex
The Mission of the Museum of Sex is to preserve and present the history, evolution and cultural significance of human sexuality. In its exhibitions, programs and publications, the Museum of Sex is committed to opening discourse and exchange and to bringing to the public the best in current scholarship. The Museum's permanent collection of over 15,000 artifacts is comprised of works of art, photography, clothing and costumes, technological inventions and historical ephemera. Additionally, the museum houses both a research library as well as an extensive multimedia library, which includes 8mm, Super 8mm, 16mm, BETA, VHS and DVDs. From fine art to historical ephemera to film, the Museum of Sex preserves an ever-growing collection of sexually related objects that would otherwise be destroyed and discarded due to their sexual content. In a city that never sleeps, the Museum of Sex is constantly evolving and has no plans to slow down.
http://www.museumofsex.com/exhibit/nudie-artist