Confused About Social Media? New Book Series Will Help Businesses "Win at Social Media"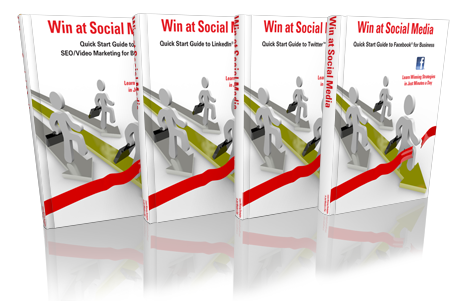 Many organizations and small businesses are hearing a lot about social media these days. Social Marketing allows businesses and websites to gain popularity (and customers!) over the Internet by using various social media tools available: Blogs, Video and Photo Sharing sites, Social Networking Sites and Social Bookmarking Websites.
But what if
social media marketing
isn't your area of expertise? How can you implement social media for business effectively? That is why the Win at Social Media series was created.
"These
Social Media Guides
helped me so much! I didn't know anything about social media, and needed to have each step spelled out. I set up my Facebook and Twitter accounts in no time at all and the checklists are helping me put together my plan. I used the tips in the search engine optimization book and my website is ranking #1 for my keywords. I definitely recommend this product." says Dawn Gepfert, of Dawn P. Gepfert Designs.
"Win at Social Media" consists of 4 step-by-step, easy to follow Guides that take you from nowhere on the internet to where you want to be.
Learn these amazing skills:
- Defining a strategy for using Social Media as a Marketing medium
- Creating branded Facebook, Twitter, Linked In and YouTube Profiles for your business
- Establishing a strong Social Media Presence (people will know your business and recognize your business)
- Attracting fans and followers, and engaging people in your brand
- Converting Social Media Fans and Followers into prospects and clients!
- PLUS! You'll get Productivity Tools and Best Practices! And a bonus Social Media Marketing Plan Guide.
Specifically, each book includes the following:
Win at Social Media Facebook for Business (newly updated March 2011):
- Setting up a Facebook profile and business page quickly and easily
- Insider tips and tricks to explode a Facebook presence and target your market
- Using "strategic friending" to reach a targeted group of potential prospects and partners
- Designing and implementing a Facebook ad campaign, for as little as $1 per day
- How to promote your Facebook presence ON-line as well as Off
- Using Facebook Ads to target your market for as little as $1 per day
Handy "daily activity" check list to save time while building your community
Win at Social Media Twitter for Business includes
- Setting up your Twitter page in minutes
- Tips on using the New Twitter
- Creating a live clickable link to drive Twitter followers back to home base to purchase your product
- Optimizing your Twitter bio to make your business searchable to potential clients
- "Speaking" Twitter to effectively communicate your message to millions
- Linking Twitter to your Facebook fan page for maximum visibility
- Using timesaving applications and tools so Twitter works for you instead of you working for Twitter
Win at Social Media Linkedin™ for Business includes:
- The benefits of having a LinkedIn Profile
- Setting up your LinkedIn profile properly and protecting your privacy and client list
- Understanding keyword benefits with a LinkedIn profile
- Creating connections that help you increase sales, find joint venture or career opportunites on LinkedIn
- How answering and asking questions can help establish you as an expert in your field
- How to add video to your profile
- How to use groups on LinkedIn to connect and expand your network
- The benefits for sales, business development, job seekers and recruiters use the "follow" company feature to increase sales and find opportunities
- Regular LinkedIn activity recommendations and a LinkedIn success checklist
Win at Social Media: SEO (Search Engine Optimization) and Video Marketing includes:
- How to Build Your Brand on the Internet
- How to use the free Google™ keyword tool to find out how people are searching for you or your business
- Using free Google Places listing to appear in the local search engine listings
- How to build your site for optimum search benefits
- Advice on selecting an optimized website address
- Tools to develop link building strategies using online classifieds, blogs and free press release sites
- Definition of social bookmarking and online directories and how to use them to help build valuable links
- How to set up your YouTube channel
- Tips on building links using online video
- Proven strategies and case studies for video marketing that will help build your online community
The series also includes a bonus on how to create a social networking game plan and information on time-saving strategies. Find out more information on the Win at Social Media series at
winatsocialmedia.com
.