SiliconExpert Releases Report on Japanese Earthquake's Impact on the Electronics Industry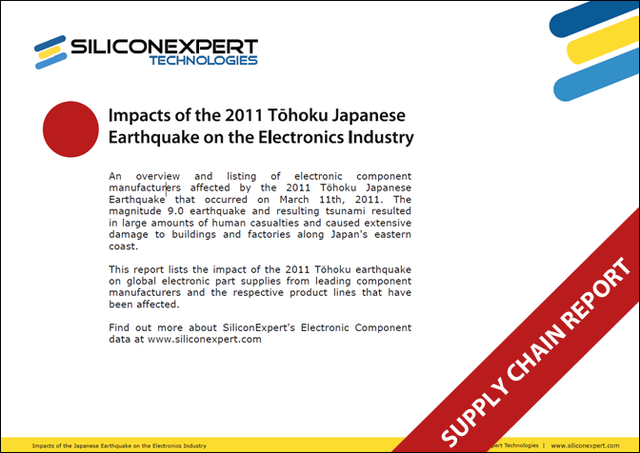 Today SiliconExpert Technologies releases a supply chain report on the impact of the March 11th Japanese earthquake and ensuing tsunami on the global electronics industry. The report analyzes over 150 manufacturing sites from electronic component manufacturers with locations in Japan. Damage assessments and product types impacted due to the earthquake and ensuing tsunami are also listed alongside confirmation reports from electronic component manufacturers.
The report's findings show a large number of electronic component manufacturers reporting low to partial impacts to manufacturing facilities with impacts to product lines ranging from ceramic capacitors, transistors and diodes to flash memory and circuit modules. Reported estimates for recovery to full production levels range from a few weeks to several months. A select number of component manufacturers have also reported a high degree of damage to their manufacturing facilities with no concrete time estimates yet given for reaching a full recovery of their production capabilities.
"The human and economic impact due to the Japanese earthquake and tsunami is quite substantial. We will continue to assess the situation for the next several months to keep our customers and the electronics industry informed of the supply chain issues that are arising due to the situation at hand," says Omar Ahmad, President & CEO of SiliconExpert Technologies.
To download a free copy of SiliconExpert's report "Impacts of the Japanese Earthquake on the Electronics Industry", please visit
http://download.siliconexpert.com/mkt/lps/japanearthquake_report/japan_earthquake_report_2011.html
About SiliconExpert Technologies
Founded in 2000, SiliconExpert Technologies has built the world's largest electronic components database and provides this data through a secure, on-demand web service to the electronics industry. SiliconExpert's software and data are used daily by thousands of electronic engineers, supply chain and procurement managers at leading Fortune 500 companies. With over 250 employees worldwide, SiliconExpert maintains a global presence for its wide range of customers spanning Asia, Europe and the Americas, operating in innovative industries such as consumer electronics, telecommunications, automotive, medical and aerospace. Find out more at
www.siliconexpert.com
Email SiliconExpert Technologies