National Smile Makeover Contest Gives Kinnelon, NJ Woman A New Reason to Smile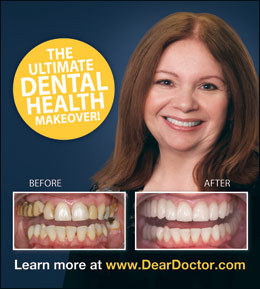 Dear Doctor - Dentistry & Oral Health magazine, the nation's leading source of dental healthcare advice for consumers, today lifted the curtain on the spectacular new smile of Debra Canzoneri - the lucky winner of "The Ultimate Dental Health Makeover." Canzoneri, 54, of Kinnelon, NJ had spent decades being too self-conscious to smile in public before she won the magazine's second nationwide contest for a free
smile makeover
.
"I couldn't even look at myself before," said Debra, who was selected from among 10 finalists. "Words can't describe how grateful I am."
With a mouthful of unsightly fillings, gaps and discolored teeth, Debra's case was challenging. Her transformation is truly dazzling and made possible by Dear Doctor and the generosity of local
Kinnelon, New Jersey dentist Dr. Jessica Logan
of Integrated Dental Aesthetics, and the national advertising sponsors of the contest.
Debra received, among other services, dental implants, crowns, a gum tissue graft and clear orthodontic aligners to straighten her teeth without metal braces.
"I waited my whole life for new teeth and I finally got them," said Debra. "I can't stop looking at them!"
Dear Doctor President and Publisher Mario Vilardi explained that enhancement of Debra's appearance was only part of the goal. Through this contest, he said, the magazine strives to restore physical and emotional health by providing free dental work to winners.
"We at Dear Doctor wanted to help give Debra back her confidence and create a smile for her that was not only more aesthetically pleasing, but one that was more structurally and functionally sound," Dr. Vilardi explained. "As importantly, we wanted to restore her dental and oral health so that it would be self-sustaining well into the future."
Dear Doctor enlisted the dental services of Dr. Jessica Logan of Integrated Dental Aesthetics, who performed procedures including oral hygiene instruction using the Nimbus toothbrush, Invisalign orthodontics, teeth whitening, along with new porcelain crowns and bridgework. Dental Ceramics laboratory provided all of the dental laboratory work. Periodontal therapy and the extraction of a failing root canal-treated tooth was treated with Osteohealth bone regeneration products, and several Biomet 3i implants were used to replace missing teeth.
To learn more about Debra's smile makeover, please visit the
smile makeover contest results
. To learn more about Dr. Logan Integrated Dental Aesthetics, visit
www.DoctorLogan.com
.
About The Ultimate Dental Health Makeover Contest:
The Ultimate Dental Health Makeover Contest is a national contest provided by Dear Doctor magazine and its corporate sponsors. The contest is designed to provide the winner with all of the necessary dental work required to reestablish complete dental health and a beautiful smile regardless of how long treatment takes. The contest is free to enter and is available to anyone in the U.S. age 18 or older. The Grand Prize Winner may receive one or more of the following services: restorative dentistry, periodontal therapy, endodontic therapy, orthodontic therapy, implant dentistry, oral surgery or any applicable or related services.
About Dear Doctor:
Dear Doctor - Dentistry & Oral Health is a
dentistry magazine
written exclusively by dental health care professionals for the education and well-being of the general public. Written in uncomplicated language, Dear Doctor aims to open the lines of communication between patients and dental professionals by providing patients with the necessary facts to make confident, informed healthcare decisions.