New Multi-tool Shovel Combines 13 Tools into 1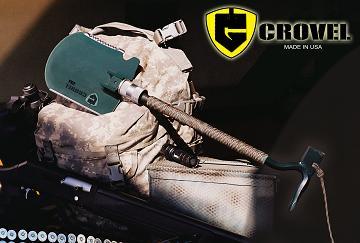 Recon LLC is the new kid on the block for outdoor gear and emergency preparedness. Not only does it sell "all things outdoors" and hard-to-find emergency products, it also produces unique American-made innovations. Its original products are conceived with the idea of empowering individuals offering multi-functional gear, making life easier.
The first product to launch is the Crovel. This multi-functional tool combines a folding shovel and a crowbar into one instrument. The Crovel also boasts other functions, such as a hammer, ax, pick, pry bar, hoe, and machete - all in one easy to use tool. By combining several tools into one, you are able to reduce excess weight of unneeded gear by approximately 45 pounds. The strength and sharpness of the Crovel's edge gives you the ultimate cutting, chopping, and sawing tool that will keep its edge — even when you lose yours. The handle is a 19" hardened goose neck crowbar with a 1.5 x .75" hammer face on the end to add additional strength and function. 550 para cord is wrapped on the handle to add grip strength and to give you 15' of life-saving material that can be used in thousands of different ways. All shovels are tested for strength, balance, hardness, finish and workmanship, and include a lifetime warranty.
Described as the "most awesome shovel ever", "the perfect shovel", and "the Swiss Army Knife of shovels", the product also boasts a "Made in the USA" label with built-in American pride and strength. Of most importance to inventor and co-founder, Tim Ralston, US-Made is the only way to go. "Millions of USA citizens have lost jobs; hundreds of companies as well as businesses have shut down, and the whole country has gone into an economic downslide. I wanted to make a small difference; manufacturing locally will not only assist local companies, it will encourage their business' growth, and this means that they can offer more jobs to Americans," says Tim.
About Recon LLC
Recon LLC is an innovative product development and ecommerce company owned by Tim Ralston and Nicholas Hauser. Tim, a forty-year emergency preparedness expert, provides individuals tried and true wisdom for preparedness and survival in almost any situation. Recon's e-commerce branch, GearUpCenter.com, offers unique emergency preparedness products such as solar ovens, emergency food storage, water purifiers, as well as outdoor gear. Its mission is to share innovations, knowledge, ideas and strategies on self- sufficiency and preparedness in a positive way, in light of what is really going on in our world. Recon has a positive outlook on life, and realizes that by taking action in our current environment and circumstances — rather than ignoring possible emergencies — we can all generate a feeling of confidence and security in our lives.
While GearUpCenter.com offers thousands of useful outdoor gear items, its main focus is to empower individuals to prepare for the unexpected, such as making emergency supply kits and developing family communications plans, whether for natural or man-made emergencies. For More Information:
www.crovelfoldingshovel.com
.
PRESS RELEASE CONTACT INFORMATION:
Marie Ralston
Eimage2@gmail.com
480. 306.4945
Websites:
www.crovelfoldingshovel.com
www.survivaloutdoorgear.com
www.gearupcenter.com