Atlantic Timber Frames Launches New Timber Frame Homes Website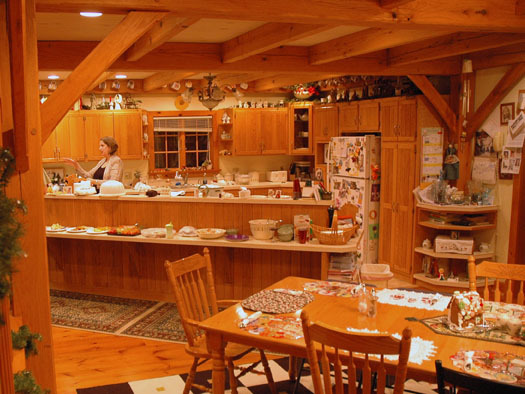 Atlantic Timberframes takes pride in producing
timber frame homes
from the farms of Pennsylvania to the north woods of Alaska. The new website highlights the beauty of timber frame homes with multiple photo galleries of completed projects.
True
timber frame houses
are created with traditional handcrafted wood joinery only, and secured with hardwood pegs. Timber frame buildings are self-supporting structures, which means they do not need interior walls as support walls. The strong oak timber beams enable the home to have large open spaces, providing a pleasant feeling of airiness. Timber framing provides versatility of design for interior spaces and durability over time.
In addition to showing the beauty of completed timber frame houses, the new website shows visitors the process of building a timber frame home. Atlantic Timber Frames mills Oak timbers from Pennsylvania and Ohio and Douglas Fir from the west coast into beautiful timber frame home kits that become wonderful custom homes. "That's what we do, mill Timber Frame structures to become homes around the country. We accommodate most any floor plan with one of our many customized designs," states Ron Gabany, owner of Atlantic Timber Frames.
The timber frame builders at Atlantic Timberframes pay careful attention to detail, testing and labeling each joint before it leaves the shop to assure ease of assembling the timber frame home kit on site. Typically cut from Douglas-fir, Pennsylvania White Oak and Wester Red Cedar the frames are sanded and oiled, giving each timber a warm and attractive finish. Embellishments, such as curved braceds and chamfered edges, add to the frame's aesthetic appeal while reflecting pride in quality workmanship.
About Atlantic Timberframes
Atlantic Timberframes uses the latest computer technologies to generate drawings for every timber frame house designed but the company prefers to hand select and cut each timber. For nearly twenty five years Atlantic Timber Frames have been working with heavy timber post and beam, producing finely crafted
timber frame kits
.
Email Atlantic Timberframes