Dr. Wilsun Xu Wins APEGGA Research Excellence Award for Anti-Islanding Protection Technology Used by Enertia Engineering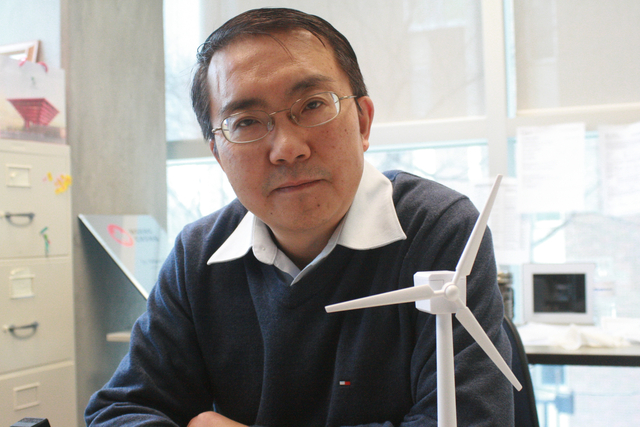 Edmonton, Alberta, April 15, 2011 – Enertia Engineering Ltd., a leading
electrical equipment company
, is pleased to announce that Dr. Wilsun Xu, after 8 years of dedicated research, development, and commercialization of anti-islanding protection, was the recipient of The Association of Professional Engineers, Geologists and Geophysicists of Alberta's (APEGGA) Research Excellence Summit Award®, for his dedicated pursuit of Distributed Generation protection technology.
An annual event, the APEGGA Summit Awards® are presented to a select group of Professional Engineers and Geoscientists who are leaders in industry and academia. This year, the Research Excellence Summit Award® is given to Dr. Xu at the Summit Awards® Gala during the APEGGA Summit 2011 Annual General Meeting and Conference.
Enertia Engineering Ltd. has exclusively licensed the patent from Dr. Wilsun Xu via the University of Alberta and TEC Edmonton, which is the basis of the EnerPulsar
Anti-Islanding protection
system, now commercially available in North America.
Dr. Xu has worked tirelessly with Enertia Engineering Ltd. to help commercialize the EnerPulsar technology. EnerPulsar is a low-cost, easy-to-implement Distributed Generation (DG) Anti-Islanding protection system. This new technology uses a centrally located Signal Generator to provide a unique signal over the high voltage interconnecting utility lines. Fail-safe Signal Detectors installed at each nearby Distributed Generator monitor the line to detect the signal. Absence of the signal ensures the DG is isolated quickly until such time as electrical system emergency is dealt with and the signal can be restored.
The primary goal of anti-islanding protection technology is simple – safety. When a transmission line is broken, or a fault occurs somewhere in an electrical system, the local utility needs to isolate the emergency location, and ensure no power flows to it. This is straightforward for the utility-controlled generators, but can be very difficult for the utility when there are small 3rd party generators connected to the grid. Examples of these small generators are wind turbines, solar arrays, biogas, and biomass generators.
"Enertia Engineering Ltd. is proud of Dr. Wilsun Xu, and extremely grateful to him for his dedicated efforts towards anti-islanding protection. Without a doubt, Dr. Xu deserves the APEGGA Research Excellence Award," says Darcy Braun, Director of Enertia Engineering Ltd.
EnerPulsar is patented islanding detection technology developed by the University of Alberta and commercialized by Enertia Engineering Ltd. It uses an industry-standard TWACS concept of imposing a signal in the power system to enable the failsafe control of all nearby DG units. Concept and feasibility tests were done at ATCO and Manitoba Hydro. Full commercial testing is ongoing with Hydro One. Additional install locations are being implemented over the next few months.
Company Background:
Enertia Engineering Ltd. is a Canadian-based
electrical engineering consulting
and electrical equipment manufacturing firm with offices in Alberta and Ontario. Enertia Engineering Ltd. is a key supplier to many of the largest oil & gas, consulting, and field service companies worldwide. Recent product development also includes the first-available cold-weather capable
solar powered street lights
in Canada.
Email Enertia Engineering Ltd.