Waytek Announces New Battery Selector/Disconnect Switch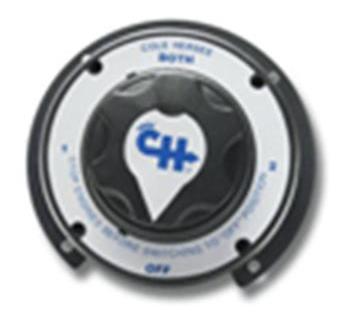 Chanhassen, MN, April 12, 2011 – Waytek, Inc., a leading distributor of electrical supplies, has announced the availability of a new Cole Hersee
Battery Selector/Disconnect Switch
designed for vehicles using two batteries (in these designs, one battery is used for starting the engine, and the other is used to power auxiliary loads). This configuration is common in boats, police and emergency vehicles, RVs, buses, off-highway equipment, and utility trucks. The new Battery Selector/Disconnect Switch allows current to be carried by either one of the batteries, or by both batteries simultaneously, or cuts off all power.
Manufactured by the electrical parts specialist Cole Hersee, this new switch functions with either alternators or generators. It provides a reliable shutdown of power during vehicle maintenance, and helps prevent theft, electrical fires, and battery drain while the vehicle is not in use or unattended. The switch allows either battery (or both) to be selected for energizing, and can provide back-up starting power in an emergency situation.
Built in a durable, fracture-resistant high temperature plastic case, the Cole Hersee Battery Selector/Disconnect Switch is vapor-proof, water-resistant, dust-resistant, corrosion-resistant, and resistant to impact and temperature extremes. The knob and insulator are made of the same durable material as the casing; the three 9.5mm stud terminals are made of heavy duty copper with brass hexnuts.
The Battery Selector/Disconnect Switch conforms to USCG section 183.410 for ignition protection. It can be surface mounted, or installed through a 3 5/16" diameter hole in the panel. Visit
www.waytekwire.com
for more information. Orders may also be placed by phone through a Waytek customer service representative at 800-328-2724, Monday through Friday from 7:30am until 6:00pm central time.
About Waytek, Inc.
Waytek, Inc. is a privately held company which offers quality electrical wiring supplies. With over 6,000 products in stock, Waytek's extensive line includes wire, connectors, electric relays, switches, cable ties, heat shrink and many more wiring accessories.
About Cole Hersee
Cole Hersee is a leading manufacturer of electromechanical, electronic and digital switches and connectors. The company specializes in the Heavy Vehicle industry, fulfilling diversified applications for trucks, off-road, utility, transit, emergency vehicles and boats.