VAC-U-MAX Unveils New Web Section for Industrial Vacuum Cleaners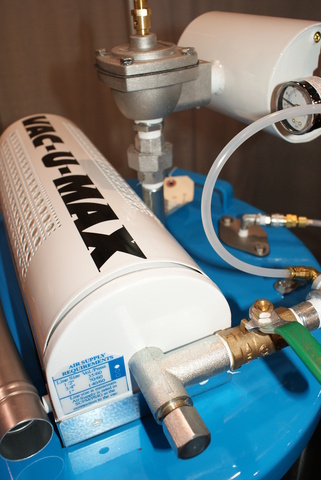 (PRLEAP.COM) Belleville, NJ, April 13, 2011 - VAC-U-MAX, the pioneer in heavy duty industrial vacuum cleaner technology since introducing the first air-operated vacuum cleaner in 1954, revealed today a streamlined web section that allows buyers of
industrial vacuum cleaners
to easily research the best vacuum for their application by category and industry.
"We are dedicated to our customers, and the website is an extension of our commitment to serve our customers in a way that consistently meets their requirements," says Doan Pendleton, Vice President of Marketing and Sales.
The new design is similar to mainstream online shopping formats that buyers have become accustomed. "We've added application specific sections as well as industry specific sections that allow users to easily navigate to appropriate industrial vacuum technologies. Each section includes product photos, brief product descriptions, pricing, and the ability to click on a product for full specifications," says Pendleton.
Some of the major applications listed for central and portable industrial vacuum cleaners include, fine powders, liquid recovery and also flammable liquid recovery where Gasoline, Diesel, JP-4 and JP-5 Jet Fuels are collected.
Vacuums are also classified by type such as
HEPA industrial vacuum cleaning
technologies, combustible dust vacuums, wet dry vacuums, and central vacuum systems.
Industry specific sections include industrial vacuums for general industry, pharmaceutical, and metalworking and machine shop industries.
Just as VAC-U-MAX continually advances its vacuum technology, the company also intends to improve its customers' web experience by adding appropriate sections as necessary, such as adding sections that focus on central and portable industrial vacuum cleaners for biofuels, and for cement applications.
Most applications require standard equipment that offers option capabilities to best fit an application. For instance, VAC-U-MAX has immediate availability whole systems with bumper-to-bumper grounded and bonded designs that meet NFPA 70 requirements for grounding and bonding.
Unlike common shop type vacs, a heavy duty industrial vacuum cleaner can suck up tons of material an hour and it is not uncommon that users need some education. Just as each manufacturing plant has proprietary processes, no two vacuum cleaning applications are alike. When searching for industrial shop vacuums, users may assume they need a custom, one-of-a-kind solution when their application actually calls for a pre-engineered product
Because VAC-U-MAX is the premier manufacturer of central and portable
industrial vacuum cleaners
for production lines and other dust-intensive areas, "we can help users choose the best system for their application when needed," says Pendleton.
When designing a central vacuum cleaning system VAC-U-MAX takes into account the characteristics of the material cleaned (such as abrasiveness, corrosiveness, flammability, or explosion hazard); volume collected; bulk density; particle size; filtration goals; maximum temperature; total number of pick up points; the number of simultaneous operators; hose size, longest vertical and horizontal tubing runs from vac; available floor space; and collection container considerations.
VAC-U-MAX offers a number of
industrial vacuum cleaners
for industrial applications. For more information about the industrial vacuuming arena visit
www.vac-u-max.com
and click on case histories on the vacuum cleaning page or contact us at 1-800-VAC-U-MAX (800-822-8629); email
info@vac-u-max.com
.