Nussbaum Transportation Named 2010 Pella Corporation Carrier of the Year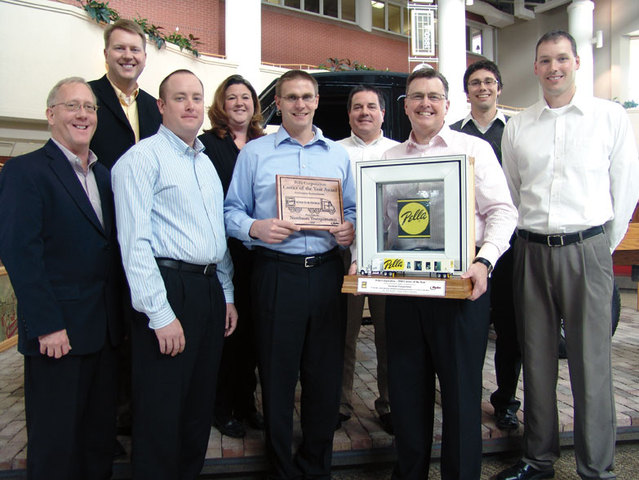 PELLA, IOWA - April 20, 2011 - Pella Corporation, together with Ryder System, Inc., its third-party logistics provider, presented its 2010 Truckload Carrier of the Year Awards. Carriers were honored for their performance in safely and efficiently transporting Pella Windows & Doors and materials from the respective Pella manufacturing sites in the United States to customers throughout North America.
Nussbaum, headquartered in Normal, IL, received two recognitions: (1) Carrier of the Year, Pella, Iowa Operations, and (2) Overall Carrier of the Year, Pella Corporation.
"Pella Windows and Doors travel by the truckload to meet new construction, remodeling and replacement needs creating better views in homes and businesses," said Steve Bowers, Pella corporate logistics manager. "Pella is known for delivering customer satisfaction. We're proud to honor these carriers for their tremendous dedication in swiftly, safely and efficiently transporting Pella Windows and Doors to our customers," he said.
Nussbaum has been transporting Pella products since 2009. "Pella Corporation ranks amongst our largest customers. We truly appreciate their recognition of our outstanding service for them across the Pacific Northwest, the Northeast and the Midwest," says Brent Nussbaum, CEO.
Nussbaum is an Illinois-based truckload carrier that offers dedicated contract carriage, regional truckload and third-party logistics services to customers throughout the United States. Founded in 1945, the company has a reputation for working with customers to create dedicated routes and customized equipment that save money and improve service. For more information about the company, please visit
www.nussbaum.com
or call Brent Nussbaum at (800)-322-7305.