VAC-U-MAX Demonstrates Powerful Industrial Vacuum Cleaners Electric Power Conference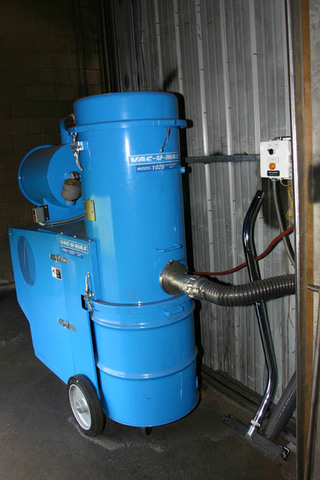 Belleville, NJ April 28, 2011 – VAC-U-MAX an early pioneer of vacuum technology and premier manufacturer of industrial vacuum cleaning systems for combustible dusts, flammable liquids, bulk spill cleanup and central vacuum systems for multiple users, will be demonstrating the power of its
industrial vacuum cleaners
in booth 1300 at the Electric Power Conference, at Donald E Stephens Convention Center in Rosemont, Illinois, May 10-12, 2011.
In line with the conference's focus of strategic and tactical issues in the power industry, VAC-U-MAX's line of industrial vacuums address and handle environmental compliance issues, maintenance and housekeeping procedures, and OSHA regulations for dealing with combustible dust.
"We have seen a significant increase in interest for intrinsically safe vacuums to control dust in Class II Div 2 environments, since OSHA's implemented its NEP program for combustible dust," says David Kennedy, GM of VAC-U-MAX's vacuum cleaning division.
Each area in solid fuel generation facilities has its own pains and thus requires unique vacuum cleaning solutions. Where coal dust and fly ash are difficult to control, a continuous duty vacuum system is ideal. In areas where spillage is minimal, like loading and unloading stations, a single portable air-operated explosion proof vacuum cleaner may be sufficient for periodic clean up; and, in facilities where 1000 lbs of dust per day spans many floors, a central vacuum system with a piping network to each floor may be the ultimate solution.
A common application is the use of portable industrial vacuum cleaners for cleanup of spilled material from bottom-dump railcars into silos where boot seals can sometimes leak. The air-powered vacs operate on the Venturi principle and by design create their own vacuum without motors or moving parts, making them intrinsically safe and ideal for use with abrasive particles that can damage electrical equipment over time.
"When we get inquiries for an
explosion proof vacuum cleaner
to clean bucket elevators or screw conveyors we often recommend our intrinsically safe vacuums that are mounted on a dolly with wheels so they can be easily moved around," says Kennedy.
VAC-U-MAX customers also appreciate that ear protection is not necessary with most of the units. Equipped with noise mufflers and guards for sound levels below 80 dbA, "our customers often tell us they don't even know they are running unless you put your hand on the hose," says Kennedy.
When more sophisticated continuous duty vacuums are necessary, centralized vacuums that capture a half ton of dust per day are used. These stationary Monoblocs include strategically placed piping throughout the facility allowing hoses to be connected to clean multiple areas simultaneously.
Nearly all regulatory agencies deter the use of brooms and compressed air to control surface dust and recommend the use of
industrial vacuum cleaners
that remove surface dust from the environment.
Kennedy warns that just because a vacuum is air operated does not necessarily mean that it is approved for use in Class II, Division 2 environments. VAC-U-MAX has immediate availability whole systems with bumper-to-bumper grounded and bonded designs that meet NFPA 70 requirements for grounding and bonding.
VAC-U-MAX has a variety of air-powered fixed and portable industrial vacuum cleaners that are "intrinsically-safe systems", use no electricity, and do not generate any heat from operation.
For more information about VAC-U-MAX
industrial vacuum cleaners
for Class II Division 2 environments, visit
www.vac-u-max.com
or contact us at 1-800-VAC-U-MAX (800-822-8629); email
info@vac-u-max.com
.