Franciscan Sisters feature Alva Leigh's "Moment" as the Franciscanized World's Song of the Month'. www.fscc-calledtobe.org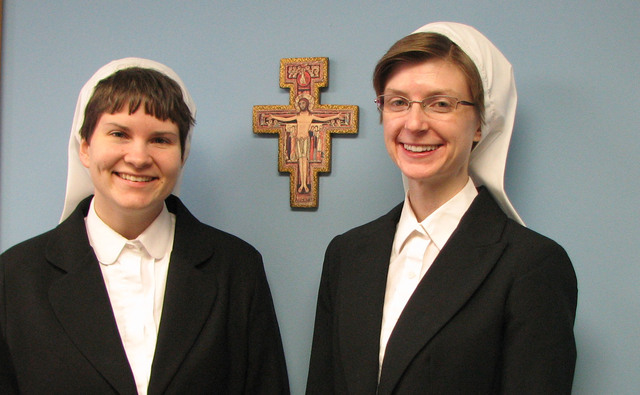 In the wake of Easter, as the semester ends for college students, the Franciscan Sisters feature Alva Leigh's "Moment" as the Franciscanized World's Song of the Month'.
www.fscc-calledtobe.org
The Franciscan Sisters offer a special reflection for looking to the future and past, as well as the present: "Moment" by up and coming singer-songwriter Alva Leigh.
Ms. Leigh observed that her song "Moment" was "..inspired by one of my favorite poems: "Arkansas Good Friday" by Franz Wright, from his fantastic collection God's Silence. The poem and the song tell the story moving out of the shadows–a journey from pain to fear to hopelessness then to love. Looking back on Lent, I can say I spent a lot of time standing in the shadows expecting and awaiting the Easter light of Christ. The shadows alter your focus to show you how much you need the light to see yourself and the world. On the other side of the shadows, Christ offers a new way of seeing the world rooted in a celebration of grace and love. The heaviness of the world, borne by Christ, becomes an easy burden in the light of Easter."
Produced by John Painter (Ben Folds, Sixpence None The Richer), Leigh's self-titled debut considers subjects from travel to natural disaster to death to heaven and hell. Heady stuff for a 22-year old piano-playing singer songwriter, perhaps, but Leigh makes these musical inquiries sound positively exhilarating, with surprise-filled melodies and lyrics that are both poetic and personal., Her vocals are wrapped in sparkling arrangements . From the telegraph-tap verses and swooning chorus of "The Road" and the Kate Bush-influenced "Fire In Your Belly" through the sparkling '60s girl group bounce of "Skyline" to the gently soulful "Calling Me"
Established in 1869, the Roman Catholic Franciscan Sisters of Christian Charity serve in Catholic Health Care, Education and Parish-Community Service throughout the United States. Mission locations extend from St. Theresa in Kekaha, Hawaii, the westernmost parish in the United States, to rural Ohio, from the Mission of San Xavier Du Bac in Tucson to parochial schools in the Green Bay Diocese.
http://www.fscc-calledtobe.org
CONTACT: Sr. Julie Ann Sheahan OSF 920-682-7728
Franciscan Sisters of Christian Charity
The World needs you. God Calls You. We Invite You. Catholic vocations.
Email Franciscan Sisters of Christian Charity