Avatar Creations Launches First Expansion For Science Fiction MMORPG: Perpetuum - Terra Incognita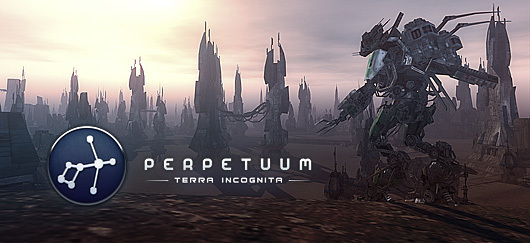 Avatar Creations, developer of the persistent sandbox MMO Perpetuum, has today released the games first expansion pack: Terra Incognita. This expansion, which doubles the playable game world, comes 5 months after the launch of the game and is available free as an automatic download for all players. In addition to the new landmass, the patch contains several new features, fixes and usability improvements. Players are welcome to take a free look at Perpetuum: Terra Incognita as each newly created account comes with 15 days of free game time. With the launch of the expansion Avatar Creations is also making direct credit card payment available in the game store.
New features in Perpetuum: Terra Incognita
World expansion
The upgrade brings six new islands to the game world, doubling the size of the landscape and infrastructure available to players. The ratio of player versus environment and player versus player areas is kept the same. The landscape will be upgraded with a new traveling feature in the form of constructed highways, that add speed to players using these paths.
Artifact scanning
Players are now able to scan for the remnants of battles that took place during the history of the world and find buried items with an expansion of the geoscanning game mechanic. The new system enables players to reveal treasures, or even trigger dangerous events.
Explosion damage
On player versus player islands, destroyed players and enemies now cause damage to all those nearby when they are killed.
Mk2 robots
As a prelude to the expansion the available number of player controlled robots has been doubled with the introduction of the Mk2 robot class. The new robots are advanced versions of the original set and can be obtained via the artifact scanning feature.
More information on Perpetuum can be found on the official website:
http://welcome.perpetuum-online.com
About Avatar Creations:
Avatar Creations, located in Budapest, Hungary is a small, independent game development studio. The company was founded for the development of their first game, Perpetuum - a completely unique, open, persistent world MMO where players are able to engage in a wide variety of interactions ranging from combat to complex economics. The goal of Avatar Creations is to continually develop and grow this world, providing a fun game for new players as well as veterans while constantly adding content to deepen the experience of players worldwide, ever seeking to create a more open ended and engaging sandbox game.
Contact information
Official game website
http://www.perpetuum-online.com
Dávid Maros Head of marketing david.maros[at]perpetuum-online[dot]com
Press information press[at]perpetuum-online[dot]com
Game information info[at]perpetuum-online[dot]com