Energy Healing Conference Takes Place in Denver: June Event Focuses on How Light, Vision and Consciousness Affect Health, Wellness, and Quality of Life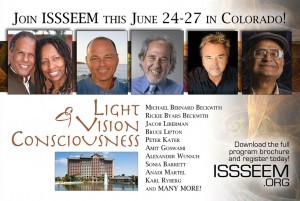 Westminster, CO … The International Society for the Study of Subtle Energies and Energy Medicine (ISSSEEM) will host its 21st annual conference, "Light, Vision & Consciousness," June 24-27 at the Westin Resort in Westminster, Colorado.
This year's conference highlights such luminaries as Michael Bernard Beckwith and Rickie Byers Beckwith, Bruce Lipton, Jacob Liberman, Amit Goswami, Peter Kater, and many others.
On Friday evening, Michael Bernard Beckwith and Rickie Byers Beckwith will discuss the Law of Emergence and how to tap into the subtle energies underlying all aspects of life.
Saturday will feature an array of pioneering scientists whose discoveries create a new paradigm of health and wellness. The evening highlights award-winning pianist/composer Peter Kater and bestselling author Bruce Lipton. Dr. Lipton will discuss an exciting "new biology" based on recent discoveries in stem cell research, epigenetics, and quantum physics.
Sunday opens with Amit Goswami's discussion of The Self-Aware Universe, and closes with a panel of experts discussing the role of spirit in guiding and animating the human energy system.
"This year's conference will keep you on the edge of your seat as scientists, mystics, healers, and lay individuals share the newest discoveries in health, wellness, and the science of life," said ISSSEEM president Jacob Liberman.
Post Conference Workshops include:
"See Auras!" with Melinda Connor;
"History and Theory of Syntonic Photo-Therapy" with Larry Wallace OD;
"The Biology of Belief: The Science of Personal and Global Transformation" with Bruce Lipton;
"Dancing with the Rainbow", with Anadi Martel and Ma Premo;
"Vital Energy - The New Frontier" with Amit Goswami;
"Reprogramming Your Hologram Of Reality" with Sonia Barrett;
"Heal your Life, Heal your World with Life Alignment" with Jeff Levin; and
"Planetary Vibrational Medicine: Harmonizing the Body Human with the Music of the Spheres" with Michelangelo.
Full conference registration is $555 for ISSSEEM members and $665 for non-members. One-day registrations are also available for $239. Tickets for Friday evening with Michael & Rickie Beckwith and Saturday evening event with Peter Kater and Bruce Lipton are $50 each.
For information, a conference schedule, or to register, visit
www.issseemblog.org
. If you have questions, please call ISSSEEM at 303-425-4625.
ISSSEEM is an interdisciplinary society of professional healers, teachers, researchers and pioneers dedicated to exploring the energetic component within many disciplines including quantum physics, integrative medicine, psychology, applied spirituality and human potential.
Email The International Society for the Study of Subtle Energies and Energy Medicine (ISSSEEM)