BluPointe Launches Blog Site to Focus on Cloud Back-up Solutions, Disaster Recovery, and Data Backup, Information, and Resources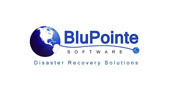 ATLANTA, Georgia, May 11, 2011–
BluPointe
CEO Ron Robertson has announced the launch of BluPointe's new
blog site,
providing in-depth technical articles about Cloud technology, Bare Metal data protection and rapid recovery, disaster recovery and more.
BluPointe designed the new blog as an informational and educational resource for both general and technical disaster recovery industry topics, and for helping customers and partners get the most out of BluPointe's products through best practices and how-to articles.
BluPointe's
bloggers come from the company's development, education, support, and technical sales teams, with decades of experience in the data protection and Cloud technology industry.
"We created this
blog
because our customers and partners expressed a need for more ongoing, in-depth technical information about our
products
and related industry information," said Roberts. "A blog is a great communications vehicle for this exchange because it provides a transparent dialogue while allowing everyone to benefit from eachother's expertise."
BluPointe, a leader in
Cloud data protection,
recently released an enhanced version of its secure Cloud backup solution specifically designed to provide a broad range of benefits to Managed Service Providers (MSPs) and organizations looking to protect critical data using Cloud technology.
To learn more, visit the
BluPointe blog
.
About BluPointe:
BluPointe
™ is a complete network-based data protection software for the Cloud and Remote Office/Branch Office (ROBO) marketplace. The BluPointe Data Protection provides Companies and their customers with a data protection solution, coupling advanced features like easy installation, powerful administration and scalability.
The result is cost-effective data protection. As part of its corporate mission, BluPointe strives to be the leading provider of Cloud based remote office, branch office backup and recovery software for the global marketplace.
For more information about BluPointe and its products, visit
www.Blupointe.net
or call 404.252-7626. To find out more about Blupointe channel partners, Managed Service Providers and Resellers, Blupointe Cloud-based backup, or to become a BluPointe Cloud Provider, visit
reseller@blupointe.net
.