Industrial Vacuum Cleaners First Defense in Preventing Combustible Dust Explosions?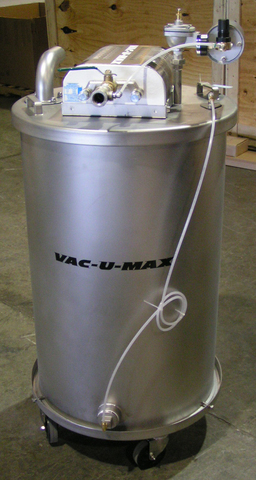 On Friday, OSHA held a Combustible Dust Expert Forum to discuss regulatory options to reduce or prevent combustible dust hazards. While OSHA grapples to define a comprehensive combustible dust standard without squeezing out small and medium size companies, many manufacturers are scrambling to find a solution to mitigate fugitive dust that leads to secondary dust explosions and are finding that explosion proof
industrial vacuum cleaners
are the answer.
While there has been much focus given to the Imperial Sugar refinery explosion that rocked the industrial sector two years after the CSB came out with its report on secondary dust explosions, incidents like that demonstrate the extreme when it comes to inattention to housekeeping standards.
In that case, significant quantities of combustible dust were found in the air, on equipment and on floors. At Imperial Sugar there were places in the factory that had nearly 2 feet of sugar lying on the floor. Although most manufacturers make every effort to keep their plants safe, accumulations of any amount of combustible dust can lead to disaster.
David Kennedy, GM of VAC-U-MAX's Vacuum Cleaning division says, "most of the time, we hear from people who are looking for a solution that makes sense to their budget, but there are some plants who decide to bear the risk rather than investing in equipment to make a plant safer."
VAC-U-MAX is a premier manufacturer of
industrial vacuum cleaners
for production lines and other dust-intensive areas. VAC-U-MAX's field proven heavy-duty vacuum cleaning systems are used in food, pharmaceutical, coal, metals, and cement industries as well as other industries where fugitive dust or heavy debris exists.
"What they don't realize is that usually when our customers purchase our industrial vacuum cleaners, they save money in the long run," says Kennedy. "Not just on the labor costs, but also in lower worker's compensation claims as well. Some of our customers save costs when they reclaim product through the vacuum system and even save on equipment maintenance because there is less wear and tear on equipment when there is less dust and debris to get into components."
When examining the data that the CSB used in compiling their report, one can see the industries that are more prone to dust explosions. The food industry topped the list with 23 percent of the explosions, and the wood and metal industries came close with over 20 percent of the incidents. The plastics industry ranked fourth on the list with over 12 percent of the incidents.
"Industrial vacuum cleaners are powerful and built to stand up to the rigors in an industrial environment. They are nothing like the vacuums people have at home, or the shop-type vacs that are purchased at a hardware store," says Kennedy.
Many times
explosion proof vacuum cleaners
to mitigate fugitive dust can be purchased for under $2000. In addition, custom systems can be designed from off-the-shelf components to fit a facility's needs, eliminating the high cost of custom designed systems that other vacuum manufacturers try to push on customers.
When smaller organizations need a vacuum cleaning solution, portable vacuum cleaning units are often purchased so they can be wheeled around to other portions of the plant. VAC-U-MAX has a wide range of heavy-duty vacuums including air operated, electric, explosion proof vacuum cleaners, portable, wet and dry, HEPA, and central vacuum systems.
For more information about streamlining housekeeping and reducing combustible dust with
industrial vacuum cleaners
, contact VAC-U-MAX at 69 William Street, Belleville, New Jersey, 07109, call 1-800-VAC-U-MAX (800-822-8629), or visit the website at
www.vac-u-max.com
.