New York Personal Injury Attorney, Ross Cellino, Gifts Add Up to $21,500 for Carly's Club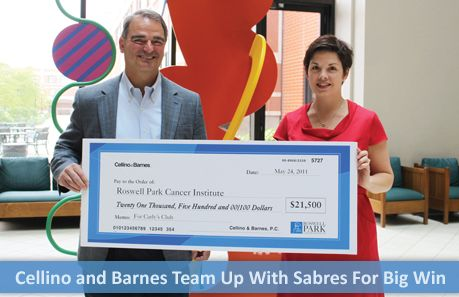 (BUFFALO, NY) Cellino and Barnes, P.C., today announced they have donated $21,500 to
Roswell Park Cancer Institute
in support of pediatric cancer research and family support programs through Carly's Club. At the beginning of the 2010-2011 National Hockey League season, the
New York personal injury attorneys
pledged to make a gift for every game won by the Buffalo Sabres.
The Sabres won 43 games during the 2010-2011 season.
Ross Cellino
, partner of the firm, visited Roswell Park Cancer Institute today to present the check.
"On behalf of our research team and pediatric patients, thank you to Cellino and Barnes for their generous and meaningful gift," said Dr. Martin Brecher, the Waldemar J. Kaminski Chair in Pediatrics at RPCI. "This funding will support promising new research led by scientists who are searching for new ways to prevent, diagnose and treat pediatric cancers."
Dr. Brecher shared that some of the funds will also provide programming to help young patients and their families throughout their cancer journeys.
"Roswell is a tremendous asset to our community," said Ross Cellino, partner and
personal injury attorney
. "Cellino & Barnes is pleased to make this contribution to help RPCI in the fight against childhood cancers."
The mission of Roswell Park Cancer Institute (RPCI) is to understand, prevent and cure cancer. RPCI, founded in 1898, was one of the first cancer centers in the country to be named a National Cancer Institute-designated comprehensive cancer center and remains the only facility with this designation in Upstate New York. The Institute is a member of the prestigious National Comprehensive Cancer Network, an alliance of the nation's leading cancer centers; maintains affiliate sites; and is a partner in national and international collaborative programs. .