AVALON WATERWAYS® RIVER CRUISES. THE NEWEST. THE ROOMIEST. THE VIEWIEST.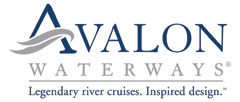 In May 2011, when
Avalon Waterways
unveiled the Avalon Panorama, the industry's first Suite Ship, the cruise line redefined the river cruise experience by enhancing traveler comfort and views, while also bringing indoor/outdoor living on board. And, thanks in part to unprecedented sales for the Panorama, things at Avalon are about to get even more "suite." In 2012, the company will introduce two more Suite Ships – the Avalon Vista and Avalon Visionary.
A trio of inspiration, the new vessels deliver an experience like no other. While Avalon has always provided river cruisers the most spacious staterooms in Europe (the entire fleet features a minimum room size of 172-square feet), with
three new ships
boasting two full decks of suites – 200-square foot Panorama Suites (178 total) and 300-square foot Royal Suites (6 total) – the cruise line is offering cruisers even more room to relax and take in 360-degree views of Europe.
And, even better, each suite features a large seating area adjacent to a Wall-to-Wall Panoramic Window. When opened, this 10' x 7' floor-to-ceiling window transforms the entire suite into the category's only Open-Air BalconySM. With a focus on bringing the beauty of Europe inside, Avalon's Open-Air Balconies can be enjoyed any hour of the day, year round, adding considerable comfort to the overall guest experience.
Inspired by design, every element of Avalon's on board experience was crafted to entice the five senses. Some enhancements, including flowers in each stateroom and premium L'Occitane products are subtle. Other offerings, such as marble bathrooms, Avalon-branded deluxe bedding (Comfort Collection by AvalonSM) and the perfect balance of warm interiors and natural lighting are distinct and unexpected.
"Nothing showcases the best of river cruising like the Panorama, Visionary and Vista," said Patrick Clark, managing director of Avalon Waterways. "Each Suite has been thoughtfully designed to enhance the European cruise experience. From bed and bathroom positioning to storage and sound-proof insulation, we provide cruisers a renewed feeling of freedom, space and comfort not found with other cruise lines."
For some cruisers, comfort comes in the form of connection: Staying in touch with friends, colleagues and family members while away. Because of this, Avalon has taken great strides to enhance the technology available to guests on ship. In addition to offering them flat-screen televisions, providing a plethora of news and entertainment options, in 2012, Avalon is giving cruisers FREE Wi-Fi fleet-wide. Furthermore, Royal Suites guests will have access to in-room iPads.
Mirroring the on board cruise experience found on all of Avalon's ships, the Suite Ships also feature a club, main lounge and dining room with sweeping views, hair salon, Sky Deck fun pool and Open-Air Bistro for outdoor, grilled lunches. In addition, the fitness rooms aboard the Panorama, Visionary and Vista are more expansive, featuring additional equipment and room to renew.
"Year after year, thanks to the continuous feedback and encouragement of our travelers, Avalon Waterways has unveiled new ships, amenities and experiences that set the standard in river cruising," said Clark. "And it's our drive to exceed guest expectations by pushing the boundaries of the river cruise experience that makes us the most contemporary and consistent cruise line on Europe's waters."
In 2012, Avalon's Suite Ships will offer cruisers three times the options to
see and experience Europe
in the comfort of a Panorama Suite. The Avalon Panorama will once again sail the 15-day Magnificent Europe itinerary (starting at $3,799). This itinerary sold-out early for 2011. The Avalon Vista will sail the 11-day Legendary Danube cruise (starting at $1,839) and 13-day Blue Danube Discovery (priced from $2,249) as well as the 15-day Magnificent Europe vacation. Finally, the Avalon Visionary will introduce Panorama Suites to the Rhine River in 2012, sailing the 8-day Romantic Rhine cruise (starting at $1,849) as well as several Christmastime cruises.
Early Booking Incentive: Travelers who book select 2012 Avalon Europe cruises by August 30, 2011 can save up to $500 per person. For more information, visit
www.avalonwaterways.com
or call 1.877.380.1535.
ABOUT AVALON WATERWAYS
Award-winning Avalon Waterways offers travelers the youngest, most innovative fleet of ships in Europe, China, Southeast Asia, Egypt and the Galápagos. Our travelers have inspired us to utilize more than 80 years of travel expertise to design the best river cruise experience possible. We've taken everything special about river cruising and made it even better-down to the last detail. Our views are panoramic and spaces large and inviting; comfort is king and dining both personal and flexible. And, thanks to our partnership with Globus, our itineraries are legendary. By design, Avalon cruisers are privy to all-inclusive access to a destination, including guided sightseeing in every port, VIP entry into key destinations and unparalleled cultural immersion and storytelling thanks to highly skilled Cruise and Tour Directors. In addition to countless trade accolades, Avalon Waterways has garnered some of the industry's most prestigious honors: Among them, the river cruise company was voted the Best River Cruise Line in 2010 by Cruise Critic editors, picked the No. 2 Best Small-Ship Cruise Line in Travel + Leisure's 2010 World's Best Awards, chosen as the "Best Value in River Cruising" by Arthur Frommer's Budget Travel and featured in Condé Nast Traveler's 2009 Gold List. Avalon Waterways is part of the Globus family of brands.
Consumers can book an Avalon Waterways vacation or request brochures by visiting a preferred travel agent or by calling the following toll free number: 1.877.380.1535. For more information, please visit
www.avalonwaterways.com
.