AVALON WATERWAYS® RIVER CRUISES. MEKONG. NILE. NASSER.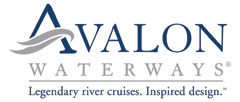 In addition to giving cruisers more "suite" options in Europe with a trio of Suite Ships in 2012, Avalon Waterways is preparing to invite travelers aboard three unique ships on four new itineraries in Egypt and Southeast Asia.
"As more travelers adopt river cruising as their preferred travel style, they want to broaden their experiences," said Patrick Clark, managing director of Avalon Waterways. "Our new Mekong and Nile River as well as Lake Nasser vacations give them the exotic and enriching getaways they desire."
THE MEKONG RIVER
To meet demand for exotic cruises, Avalon Waterways will unveil the NEW Avalon Angkor. "Named after Angkor Wat and featuring only 16 staterooms, this is the first- and only- passenger ship built to cruise all the way from Ho Chi Minh City to Siem Reap, exclusively eliminating seven hours of drive-time on land for travelers," said Clark.
Designed and constructed by traditional craftsmen, the Avalon Angkor has a colonial charm and is hand-finished in brass and teak. This ship delivers an amazing indoor/outdoor experience for cruisers. Its Avalon Deluxe Staterooms measure 172-square feet and open to the outside with floor-to-ceiling, sliding glass doors and balconies, so cruisers will never miss the passing scenery. Cruisers aboard the new Angkor will also enjoy the Sun Deck with panoramic views and 24-hour bar as well as spacious dining room, relaxing massage area and fitness equipment.
Avalon Waterways will sail the Avalon Angkor on a NEW 14-day Fascinating Vietnam, Cambodia & The Mekong River itinerary from Ho Chi Minh City to Bangkok (priced from $3,459).
"With the Angkor, Avalon takes cruisers to difficult-to-reach villages, providing them a unique experience with immersive access into the diverse cultures and histories found in Vietnam and Cambodia," said Clark. "The Mekong excursions we provide cruisers, including a visit to Phnom Penh – the sight of the Tuol Sleng Genocide Museum and one of the Khmer Rouge Killing Fields – as well as onboard lectures, are not only eye-opening but also life-altering."
The seven-day cruise portion of this journey also includes such inspired and authentic port excursions as visiting the Governor's Palace and Temple of Literature in Vinh Long; seeing a local fish farm and taking a walking tour through an outdoor market in Chau Doc; experiencing Prek Bang Kong's silk weaving tradition; exploring Khmer Houses, a local school and Buddhist Monastery in Prek Bang Kong; receiving a traditional water blessing on a hilltop in Wat Hanchey and taking an ox cart ride past rice paddy fields in Kampong Tralach.
Avalon cruisers also have the option of extending the Fascinating Vietnam, Cambodia & The Mekong River experience by adding Luang Prabang or Hanoi and Ha Long Bay to their itinerary.
THE NILE RIVER AND LAKE NASSER
In 2012, Avalon Waterways is also enhancing its cruising experience in Egypt by chartering the MS Mayfair, a five-star ship that is one of the newest vessels on the Nile today and the MS Kasr Ibrim, a ship designed to evoke the elegant leisure of an early 20th Century cruise. Named after the ancient citadel, this deluxe ship sails Lake Nasser – a new waterway for Avalon.
With these ships come three NEW Egypt itineraries: 9-day Highlights of Egypt (priced from $2,606); 12-day The Pyramids, Lake Nasser & Nile Highlights (starting at $3,441) and 13-day Egypt & the Nile in Depth (priced from $3,538).
"We have great confidence in the draw of Egypt and are differentiating the experience for our cruisers with newer ships and three new itineraries, giving them more choices and exploration opportunities," said Clark. "A 'must-see' destination, Egypt offers travelers a mystical and exciting journey abroad."
Early Booking Incentive: Travelers who book 2012 Egypt, China or Galápagos cruises by August 30, 2011 can save up to $300 per person. For more information visit
www.avalonwaterways.com
or call 1.877.380.1535.
ABOUT AVALON WATERWAYS
Award-winning Avalon Waterways offers travelers the youngest, most innovative fleet of ships in Europe, China, Southeast Asia, Egypt and the Galápagos. Our travelers have inspired us to utilize more than 80 years of travel expertise to design the best river cruise experience possible. We've taken everything special about river cruising and made it even better-down to the last detail. Our views are panoramic and spaces large and inviting; comfort is king and dining both personal and flexible. And, thanks to our partnership with Globus, our itineraries are legendary. By design, Avalon cruisers are privy to all-inclusive access to a destination, including guided sightseeing in every port, VIP entry into key destinations and unparalleled cultural immersion and storytelling thanks to highly skilled Cruise and Tour Directors. In addition to countless trade accolades, Avalon Waterways has garnered some of the industry's most prestigious honors: Among them, the river cruise company was voted the Best River Cruise Line in 2010 by Cruise Critic editors, picked the No. 2 Best Small-Ship Cruise Line in Travel + Leisure's 2010 World's Best Awards, chosen as the "Best Value in River Cruising" by Arthur Frommer's Budget Travel and featured in Condé Nast Traveler's 2009 Gold List. Avalon Waterways is part of the Globus family of brands.
Consumers can book an Avalon Waterways vacation or request brochures by visiting a preferred travel agent or by calling the following toll free number: 1.877.380.1535. For more information, please visit
www.avalonwaterways.com
.