AVALON WATERWAYS® RIVER CRUISES. PASSION. INSPIRATION. ENRICHMENT.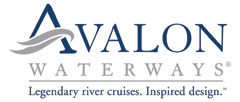 Thanks to increased demand for "passion travel," in 2012, Avalon Waterways is expanding its popular wine-, music- art- and holiday-vacations to include legacy themes with a NEW Jewish Heritage and NEW European History & Politics cruises.
Avalon's new
Jewish Heritage Cruise
takes travelers to the museums, monuments and landmarks significant to Jewish history, including Budapest's Jewish Museum; Regensburg's Jewish Quarter and ancient synagogue excavations; Prague's Jewish Cemetery as well as the Jewish ghetto of Terezin, where more than 30,000 Jews died from unconscionable living conditions. This 13-day journey begins in Budapest on October 29, 2011 and is priced from $2,249.
Another new themed offering from Avalon –
European History & Politics
– invites interested cruisers on three itineraries in July and August 2012: 17-day Jewels of Central Europe (Paris to Budapest, priced from $4,929; 13-day The Blue Danube Discovery (Budapest to Prague, priced from $2,589) and 12-day Central European Experience (Paris to Prague, priced from $2,489). Joining travelers on board is a diplomacy expert who has worked at the United Nations, on the NATO/Warsaw Pact and on E.U. security and economic issues. Special lectures give cruisers a unique perspective on Central Europe.
"Avalon's inspired, 360-degree cruise experience affords travelers the chance to immerse themselves into a destination, culture and passion thanks to unparalleled land programs and world-class guides," said Patrick Clark, managing director of Avalon Waterways. "Our Cruise Directors and special guest lecturers also offer them a vast onboard education experience, giving cruisers the chance to soak in the history and culture of a region as they drift from village to village."
Also new for 2012, Avalon will take Tulip Time cruisers to the Floriade, an international exhibition of flowers and gardening, held every 10 years. Other popular themed vacations for the cruise line are
Wine Cruises
which sell-out year-over-year, including:
* 11-day The Legendary Danube (Prague to Budapest)
** November 1, 2012 departure; priced from $1,899
* 11-day Burgundy & Provence (Côte D'Azur to Paris)
** October 29, 2012 departure; priced from $2,349
* 10-day Windmills, Vineyards & Paris (Paris to Amsterdam)
** October 18, 2012 departure; priced from $2,489
* 13-day The Blue Danube Discovery (Budapest to Prague)
** July 23, 2012 departure; priced from $2,589
Art- and music-cruises are also top-selling itineraries. Avalon will bring back its Art & Impressionist Cruise, Burgundy & Provence Jazz Cruise and Magnificent Europe Music Cruise for 2012.
"We transform tourists into travelers and storytellers," said Clark. "Thanks to our affiliation with Globus, we help them truly experience each destination with guided sightseeing in every port (complete with headsets), daily port lectures, VIP access into key destinations, no waiting in lines and unparalleled cultural immersion."
Early Booking Incentive: Travelers who book select 2012 Avalon Europe cruises by August 30, 2011 can save up to $500 per person. For more information, visit
www.avalonwaterways.com
or call 1.877.380.1535.
ABOUT AVALON WATERWAYS
Award-winning Avalon Waterways offers travelers the youngest, most innovative fleet of ships in Europe, China, Southeast Asia, Egypt and the Galápagos. Our travelers have inspired us to utilize more than 80 years of travel expertise to design the best river cruise experience possible. We've taken everything special about river cruising and made it even better-down to the last detail. Our views are panoramic and spaces large and inviting; comfort is king and dining both personal and flexible. And, thanks to our partnership with Globus, our itineraries are legendary. By design, Avalon cruisers are privy to all-inclusive access to a destination, including guided sightseeing in every port, VIP entry into key destinations and unparalleled cultural immersion and storytelling thanks to highly skilled Cruise and Tour Directors. In addition to countless trade accolades, Avalon Waterways has garnered some of the industry's most prestigious honors: Among them, the river cruise company was voted the Best River Cruise Line in 2010 by Cruise Critic editors, picked the No. 2 Best Small-Ship Cruise Line in Travel + Leisure's 2010 World's Best Awards, chosen as the "Best Value in River Cruising" by Arthur Frommer's Budget Travel and featured in Condé Nast Traveler's 2009 Gold List. Avalon Waterways is part of the Globus family of brands.
Consumers can book an Avalon Waterways vacation or request brochures by visiting a preferred travel agent or by calling the following toll free number: 1.877.380.1535. For more information, please visit
www.avalonwaterways.com
.