Fake PC Security Program Windows 7 Recovery Promises Malware Removal But Leaves PC Users in the Cold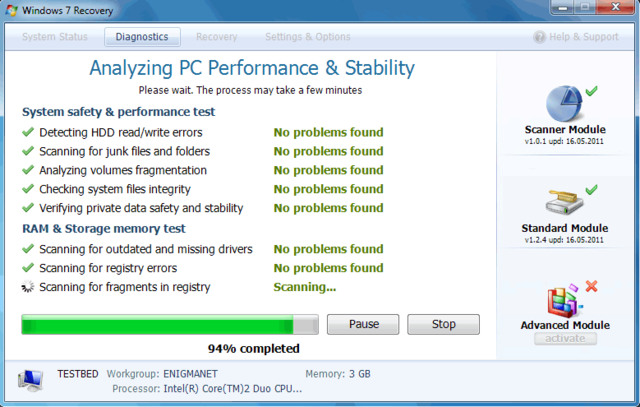 A rogue anti-spyware program by the name of Windows 7 Recovery has been identified as a scam by several trusted computer security providers over the Internet. One particular source, EnigmaSoftware.com, has concluded that Windows 7 Recovery "sole purpose to extort money from innocent computer users."
EnigmaSoftware.com has released a new Windows 7 Recovery Removal Report which provides a detailed description and screen shot images of the fake Windows 7 Recovery security tool. It has been determined that Windows 7 Recovery utilizes an interface full of colors similar to the Windows 7 operating system in an attempt to gain the trust of computer users. This deceiving characteristic, among others, is just a tip of the iceberg when it comes to Windows 7 Recovery's antagonistic features.
Windows 7 Recovery, as outlined in the EnigmaSoftware.com's Windows 7 Recovery Removal Report, displays notifications that it has discovered spyware on a computer. These messages should not be trusted mainly because they are false and part of a scam rendered by the creators of Windows 7 Recovery.
Computer users must come to the surprising realization that Windows 7 Recovery is unable to detect nor remove malware of all types including viruses, spyware, and even Trojans. Even though Windows 7 Recovery has a nice looking interface, it should not be confused with trusted spyware removal tools that are readily available on the PC software market.
Ultimately,
Windows 7 Recovery attempts to swindle PC users
into purchasing the Windows 7 Recovery program. Doing so would only leave gullible computer users in the cold. In other words, they would have just wasted upwards of $80 on a bogus security program that does not live up to its claims of ridding their system of malware.
The latest Windows 7 Recovery Removal Report available on
http://www.enigmasoftware.com/windows7recovery-removal/
, provides up-to-date resources for helping computer users remove the Windows 7 Recovery program from their system. These resources are necessary because Windows 7 Recovery may not be simply uninstalled from the 'Add/Remove Programs' function via the Windows control panel. Additionally, Windows 7 Recovery has been proven to be difficult to manually remove in most circumstances.
The complete Windows 7 Recovery Removal Report also provides users with several characteristics and symptoms to look out for when potentially encountering the Windows 7 Recovery program. These characteristics include a plethora of fake warning messages that may appear on one's PC screen. Other Windows 7 Recovery clones are:
Windows Vista Recovery
, Win 7 Security 2011, Win 7 Home Security, and XP Internet Security 2011 to name a few. It is essential that computer users take the necessary precautions to remove Windows 7 Recovery after its discovery to prevent future system damages.
Email Enigma Software Group USA, LLC