HUNTER DOUGLAS MAKES IT BIG ON REALITY TV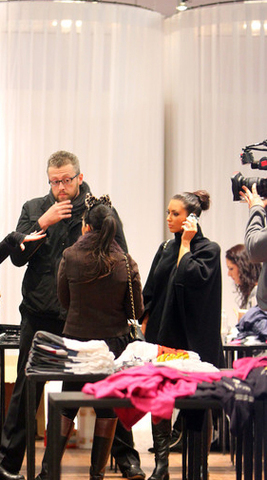 UPPER SADDLE RIVER, N.J., May 28, 2011 – When it comes to reality TV, these days it is hard to get bigger than the Kardashian sisters. People magazine refers to them as, "the Gabors of the new media age" and it's hard not to agree. Their much anticipated Dash boutique in New York City's Soho has opened and is being chronicled on "Kourtney and Kim Take New York,." the third in the series of reality TV shows featuring the Kardashians and airing on the popular E! network.
Also known to be fond of the spotlight, Luminette® Privacy Sheers from Hunter Douglas with soft fabric sheers backed by fabric vanes that rotate for privacy and light control was selected by the Kardashians for the boutique. Luminette sheers are used on three round changing areas and in the "boudoir" area, which includes a makeup room, lending a more feminine and romantic touch to the industrial space.
Pronounced "gorgeous" by Kim, the most famous of the sisters, the product adds softness and filtered light and was "fast, easy and perfect" to use in the store according to the designer Gregory Okshteyn, President of New York's Studios GO, Inc. "Luminette sheers have such a rich, lush, sophisticated look," says Okshteyn, who counts Jay Z among his clients. "They're so 'glam' like Kim and polished looking."
The front of the store is based more on Kourtney's aesthetic according to Okshteyn and has an industrial chic look with raw iron hanging racks, bare hardwood floors and gray walls. "The Luminette sheers provide a luxurious contrast," concludes Okshteyn.
Tune in to E! Sunday nights.
Headquartered in Upper Saddle River, N.J., Hunter Douglas, Inc. is the leading manufacturer of custom window fashions in North America and a national sponsor of Habitat for Humanity, covering windows in every Habitat home built in the U.S. and Canada. In addition to Luminette Privacy Sheers, the company's products include Silhouette® window shadings, with the Signature S-Vane™ – a similar concept on the horizontal, Luminette® Modern Draperies, Duette® Architella® and Duette® honeycomb shades, Pirouette® window shadings, Vignette® Modern Roman Shades, The Alustra® Collection, Design Studio™ Roman Shades, Heritance® hardwood shutters, NewStyle® hybrid shutters, Palm Beach™ polysatin shutters, Skyline™ Gliding Window Panels, Country Woods® wood blinds, Provenance® woven wood shades and Designer Screen Shades.
For more information, contact Hunter Douglas at 1-800-274-2985 or visit
www.hunterdouglas.com
.
Media can also visit
www.louhammond.com
for the latest press releases. Follow on Twitter at
www.twitter.com/louhammondpr
or become a fan on Facebook.
Email Lou Hammond & Associates