Get-Direction.com Announces Deployment of Innovative Directions-Searching Service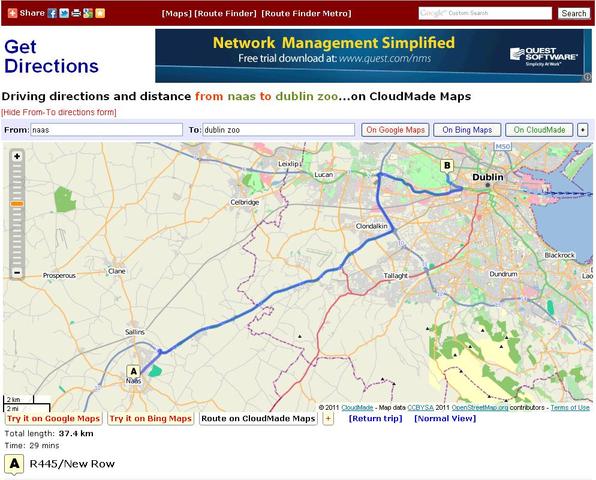 Get-Direction.com
announced the roll-out of its mapping site, which allows users to quickly and efficiently switch between leading online mapping services – Google Maps, Bing Maps, Yahoo Maps, Mapquest, Rand McNallly maps, and CloudMade – all within the same page and without having to re-enter their departure and destination points.
The "all-in-one" functionality addresses a common problem of existing services: faulty or inaccurate data which, in turn, compels users to double- or triple-check driving directions elsewhere. By consolidating multiple services in one interface and eliminating the need to re-enter locations in other tabs or windows, this application helps users save time while ensuring accurate results.
An Innovative Platform that Solves the Problem of Inaccurate Directions
Inaccurate online mapping software is a pervasive problem that the major players are trying to remedy. In 2009, for example, Google removed data provided by Tele Atlas from its United States maps after reports of incorrect street names, missing townships and outdated mapping information. Google is also particularly reliant on user feedback – it enables users to "Report a Problem" on Google Maps if users find outdated or incorrect information.
Ultimately, Google's actions prove what users already know: online maps are frequently inaccurate. Furthermore, while each service continues to make inroads in improving mapping technology and verifying locations, no provider will ever be one-hundred percent error-free.
Get-Direction.com acutely understands this dynamic and gives users the best solution available: the ability to cross-check leading mapping services to ensure accuracy, all in the same interface. Users can also utilize practically all of the respective features for each service, such as zooming, panning, and street view.
The "All-In-One" Functionality Helps Reduce Map Complexity and Inconsistency
Finding accurate directions can be difficult; finding a consistent and timely map of a large metropolitan area – think New York City or Chicago – is even more problematic. Given the size of these areas, ever-changing business locations, and perpetual roadwork resulting in routing changes, the underlying maps themselves are more consistently inaccurate than basic driving directions.
Get-Direction.com addresses this deficiency by extending this multi-service approach towards maps themselves: users can view maps from different sources all within the same interface and without having to re-enter data.
A Unique Approach That Remediates the Causes of Human Error in Directions-Searching
Yet there's another piece of the equation that prevents users from getting accurate
driving directions
: errors made by the user themselves. Simply put, no existing mapping service provider intelligently instructs users on how to most effectively utilize their service.
The "Tips for Helping the Map Understand Addresses" reduce the likelihood of user error by instructing users around mapping "best practices," such as the need to include commas, postal codes, and check spelling.
Get-Direction.com: Intuitive, Fast, and Accurate Driving Directions Searching
Online mapping software provides an incredibly helpful service, yet most online services are riddled with technological deficiencies while failing to foresee and minimize human errors. This application's innovative and intuitive "all-in-one" platform uniquely addresses these deficiencies by providing multiple "opinions" to boost accuracy while simultaneously instructing users around the elements of intelligent searching to yield optimal results.