Kleenex Mums launches blogging competition with iPad2 up for grabs!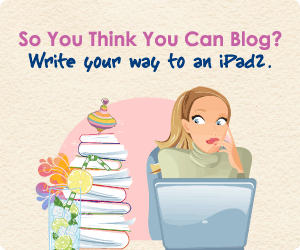 Kleenex Mums has launched 'So You Think You Can Blog', a blogging competition for parents. Entrants have until 30th June to submit their blog posts and can enter via the
Kleenex Mums website
.
The author of the best blog post, as decided by the Kleenex Mums judging panel, will win an Apple iPad2 and all runners up will be published on the Kleenex Mums website and receive an overnight bag.
So You Think You Can Blog
is aimed at parents who want to start blogging as well as those who already have an established blog. To qualify, blog posts will need to be 500 to 800 words on a parenting related topic. Entrants can submit as many times as they like, as long as each blog post is unique.
Co-founder of Kleenex Mums, Melissa Gassman, is thrilled about the launch of So You Think You Can Blog; "Kleenex Mums is all about sharing the collective wisdom of Aussie mums, and what better way to share your ideas, your stories, your insights and even your frustrations than blogging? Most mums don't have time to set up their own blog but would love to write a guest blog," She said.
It's certainly something that appeals to a large number of Australian mums, "Last year we surveyed close to 4,000 mums and 46% said they would be interested in guest blogging for a parenting site," said Gassman.
The winner of the main prize will be notified by email and phone on 11 July 2011. The Main Prize winner's name will be published on the Kleenex Mums website by 11 July 2011 and in The Australian on 18 July 2011.
So You Think You Can Blog is open to Australian residents who are members of Kleenex Mums. Those who aren't members can sign up for free on the
Kleenex Mums website
.
A passionate supporter of Australian mum bloggers, Kleenex Mums authored the free
How to Blog
eBook, which was created to help more mums get into blogging.
Kleenex Mums is an online community of Australian mums sharing advice about parenting and also represents VIVA Paper Towel, Kleenex Facial Tissue and Kleenex Cottonelle Toilet Paper. For more information visit our
website
or
download the Blogging 101 eBook
(PDF).
About Kimberly-Clark
Kimberly-Clark is an innovative health and hygiene products company that most Australians come into contact with everyday. Major brands Kleenex®, Wondersoft®, Viva®, Thick & Thirsty®, Huggies®, Snugglers®, Poise®, Depend®, Kotex® and [U] by Kotex®. KCA just launched a new Flushable Wipes product, and have a range of hygiene products for kids.