FREE Pregnancy and Baby Stages iPhone App from Huggies Australia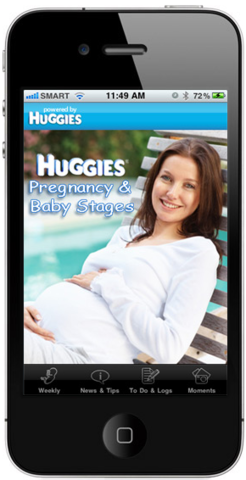 Huggies Australia have released a free
Pregnancy and Baby Stages iPhone app
for mums-to-be. Written and developed by experts in the fields of midwifery and nutrition, the app is designed to guide mothers through pregnancy and the first challenging year of motherhood.
Featuring a week-by-week guide to pregnancy, expert tips and information, tools, breastfeeding tracker, frequently asked questions, baby development guidelines and illustrations, exercises, and more, the Huggies Pregnancy and Baby Stages app is now available for download on iPhone and iPod Touch.
Lia Liaros, the Digital Strategy and Community Manager for Huggies in Australia, is enthusiastic about the release. "We wanted to develop an app that would be useful, convenient, fun and reassuring for first time mums, whether at home or on the go. The Huggies Pregnancy and Baby Stages App is all of these things and more," she said.
Perhaps one of its most appealing features is the price tag – the app can be downloaded from the iTunes Store for free. "We want to support our Huggies mums. Offering the Pregnancy and Baby Stages app as a free download means nobody misses out," said Liaros.
Download the Pregnancy and Baby Stages app from the
iTunes Store
or visit the
Huggies website
for more information.
Huggies is a leading supplier of
nappies
and
baby
care products in Australia.
About Kimberly Clark
Kimberly Clark is an innovative health and hygiene products company that most Australians come into contact with everyday. Major brands Kleenex®, Wondersoft®, Viva®, Thick & Thirsty®, Huggies®, Snugglers®, Poise®, Depend®, Kotex® and [U] by Kotex®.
Kimberly-Clark Australia employs over 1,650 people and has annual sales revenue of approximately $1 billion.