OOm wins Best Search Campaign at Agency of the Year 2011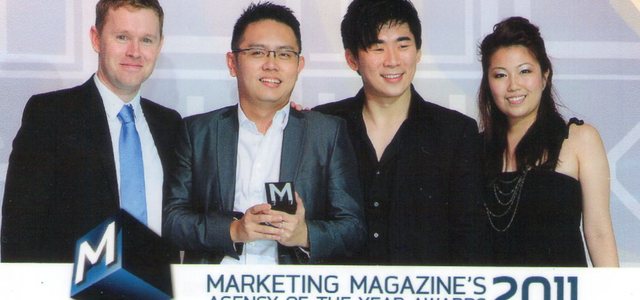 Singapore, June 4, 2011 – OOm was crowned the winner of Best Search Campaign at Agency of the Year MARKies award 2011, organized by the Marketing Magazine.
The winning entry is a campaign that was strategized, produced for Kaplan Singapore, and executed on Google and Yahoo! search engines.
The other awards were presented to the other reputable agencies which include DDB, Ogilvy & Mather, Mindshare, Starcom, Young & Rubicam, Group 8, Bang Public Relations, JWT, XM as well as Flieshman-Hillard.
Wayne Eo, Co-Founder and Managing Director of OOm, said hard work and patience has finally paid off. "We always stand firm in creating quality
search marketing
campaigns and believe that one day our effort will be recognized by the public. I want to thank this year's panel of senior and highly experienced judges for selecting OOm to be the winner of the Best Search Campaign category."
Ian Cheow, Co-Founder and Director of OOm, said "We are humbled to win the Best Search Campaign, especially with all the big boys around. It is recognition to the hard work and effort that my team has put into the campaigns and we will continue to do our best in our work."
About the Agency of the Year 2011 MARKies Award
MARKies Award by Marketing Magazine celebrates the most innovative, creative and effective campaigns that stands out in Singapore's entire marketing services industry. It endeavours to showcase unique and deserving works of brilliance.
This year's competitors included international networks such as Ogilvy & Matter, DDB Group, BBH Asia, ZenithOptimedia, Mindshare, AMC Asia, Saatchi & Saatchi as well as JWT and XM.
About OOm
OOm, founded in 2006, delivers result-oriented online marketing solutions to South-East Asia and Asia Pacific clients and has grown to become a leading online marketing agency.
OOm specializes in digital campaign optimization and management. Apart from strategizing and executing a digital campaign, OOm optimizes campaigns to achieve higher ROI at a lower cost for clients. OOm offers a complete suite of online marketing solutions, from search engine marketing
SEO
,
SEM
, Baidu sponsored ads) to social media marketing.
OOm is also appointed as the Authorized Reseller of Yahoo Search Marketing for South East Asia, attained Google Adwords Certified Partner status. The agency is also invited to speak at prestigious industry events such as ad:tech 2011, Internet Show 2011, Search Engine Marketing Expo.
Winner of the Best Search Campaign at Agency of the Year MARKies Award 2011, OOm's vision is to become Asia's top digital agency, delivering efficient and holistic execution to clients.
For more information on OOm, please log on to
www.oom.com.sg
.