Modern Wallpaper Retailer Graham & Brown Releases Plush Flock Collection by Laurence Llewelyn-Bowen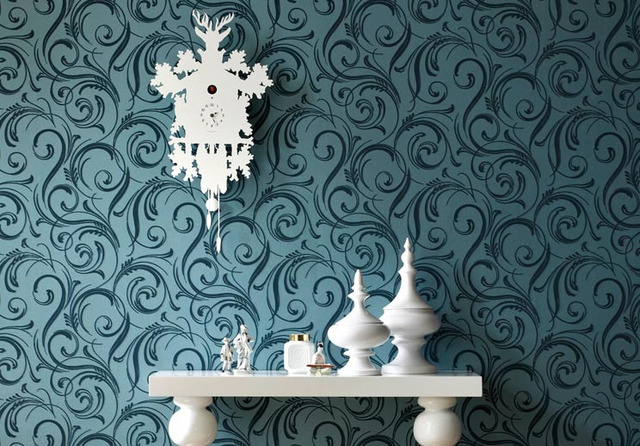 June 7, 2011 – Modern
wallpaper
giant Graham & Brown recently released a new
Plush Flock
wallpaper collection designed by renowned British interior designer, Laurence Llewelyn-Bowen.
Llewelyn-Bowen's Plush Flock Collection, exclusively for Graham & Brown, features four chic and elegant flock designs available in an array of lavish colors. The new
designer wallpaper
collection combines glamorous design with a luxurious flocked detail for a plush look and feel that instantly adds dimension and texture to any room. Following Llewelyn-Bowen's own unique and risqué style, the collection includes four playfully named designs, Kinky Vintage, Velvet Undergrowth, Swurly Wurly and Flock Star Stripe.
Kinky Vintage, an enticing flocked, vintage print design, is available in three opulent colors, Scarlet Starlet, Bordeaux Bordello and Naughty Noir. The perfect depiction of sumptuous drama, Velvet Undergrowth features a glamorous flocked floral design, available in two complimentary colors. The playfully named Swurly Wurly design stays true to its name with swirling rippled designs in three equally flirtatious colors, Tease, Domino-trix and Cheeky Charcoal. Finally, the chic Flock Star Stripe design, in Tuxedo and Purple Rain, makes a bold statement with dark color blocked stripes.
"These papers are a celebration of the exotic, voluptuous and indulgent," said Llewelyn-Bowen. "Nothing can beat the very particular glamour that you get from decorating a room with richly patterned wallpaper. It sets a tone creates a mood and conjures up a sensual ambiance to which I freely admit, I am addicted."
Graham & Brown and Llewelyn-Bowen have enjoyed a successful partnership for over a decade, and continue to do so with the recent addition of the
flock wallpaper
collection. Other popular Llewelyn-Bowen wallpaper collections include his paintable wallpapers and the Definitive Collection, featuring nine elegant designs inspired by travel and Llewelyn-Bowen's own sketch book.
Graham & Brown is a widely acclaimed wall decor company involved in offering creative solutions for decorating homes, offices, restaurants, hotels, etc. Headquartered in Blackburn, UK Graham & Brown has offices in countries all over the world, from the US, Canada, Russia and Holland to France, Poland and China. To learn more about Graham & Brown and its services, visit
www.grahambrown.com
.