Lawn Striping System Helps Dad Earn His Stripes This Father's Day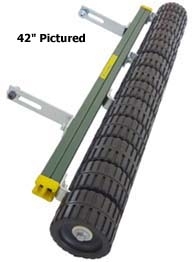 The lawn-obsessed are always looking for new ways to achieve the best turf in town. The CheckMate lawn striper can help take the appearance of any lawn to a new level. This
lawn striping system
attaches to the back of any rotary or riding mower to create a look reminiscent of the great ball parks, soccer fields and golf courses nationwide…Just the thing to make Dad – and his grass – the envy of the neighborhood.
"Growing up in Detroit, I always admired the look of the field at Tiger Stadium, so I was determined to replicate the checkerboard effect at home," said Bob Greenhoe, inventor of the CheckMate
professional lawn striping product
and President, Big League Lawns. "The CheckMate creates such a dramatic effect, I get people asking me all the time how I did it, so I decided to take my lawn striper to the market."
Essentially, the
CheckMate
is a weighted roller that attaches behind the blades on any mower. The roller bends grass down. Whatever pattern you make is revealed by the light shining off the bent grass. A striped effect occurs when the grass is cut in side-by- side rows, alternating the way the grass bends. A checkerboard design is achieved by cutting stripes north to south, then passing over the grass a second time, east to west.
"It is quite simple to do and once you master one pattern on your grass, it's fun to try another," says Greenhoe. "Stripes, checks, diamonds, waves, circles – the possibilities are endless."
Big League Lawns was born 12 years ago when Bob Greenhoe decided to market the
lawn striping
kit that helped him achieve such dramatic effects on his own lawn. The CheckMate is the only universal lawn striping kit on the market: It can be attached to any riding or rotary mower for results that are truly big league.
Prices start at $140 USD. For more information or additional photos, please contact Aynsley Wintrip Harris at
AynsleyHarris@sympatico.ca
.