New Website Offers Motorhomes and Campervan Rental Service for your African Safari Adventure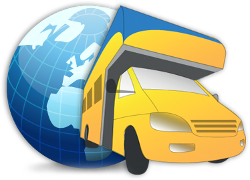 Camper Travel is now servicing Africa with the launch of
www.campertravelafrica.com
. The site features top African destinations and accessible campervan depots for self-drivers. Depots are strategically located in key cities like Cape Town, Harare, Lusaka, Johannesburg and Durban. It includes suggested itineraries with approximated travel time and distance between attractions and caravan parks in significant areas.
Africa's diverse attractions make traveling to and from destinations a major consideration for self-drivers. While major roads are in good condition and well-signposted, rural streets are in a less savvy state. The website addresses this by providing basic road rules and 24/7 customer support.
The country's tourism authority stands with the promise of "Leave Ordinary Behind". The website extends the call to tourists by providing information on how to go about self-drive vacations. Camper Travel Africa engages people to take the challenge of a wild, Safari experience. Self-drivers can choose from thousands of vehicles and avail of these value-added services:
1. Easy booking in only 3 steps
2. Fully staffed customer service available 24/7
3. We will match any offer you find from another site.
4. No hidden costs
5. Secure online booking process
Africa offers adventure tourism with extreme sports, diverse marine attractions including the world-renowned Great White Shark diving experience, World Heritage sites, white-sand beaches, and the world's longest wine route.
Camper Travel is the world's largest online agency that specializes in Motorhome Rentals in South Africa. Its rental services are available in the world's key destinations, Australia, Canada, Europe, the United States and now, South Africa. In just a few weeks, it will be launching Camper Travel Europe as well. The company provides wide access to all types of Rvs, 4x4, campervans, and motorhomes.
For more information contact our local numbers in South Africa:
Cape Town:
+27 21 3001904
Johannesburg:
+27 11 4613173
Email:
info@campertravelafrica.com
Our Freecall numbers if your calling from:
New Zealand:
0800 451 147
United Kingdom:
0808 120 7633
Germany:
0800 181 9395
Australia:
1800 46 80 82
USA:
1877 778 1752
Email Motorhome Rentals in South Africa