Mosley Tribes Sunglasses Summer 2011 Available at Eyegoodies.com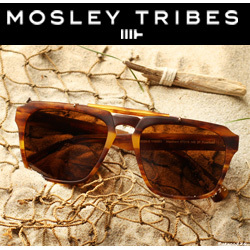 The highly anticipated
Mosley Tribes sunglasses
summer 2011 collection is now available at Eyegoodies.com.
Launched in 2005 by Oliver Peoples' founder and Creative Director Larry Leight, Mosley Tribes sunglasses blends the timeless luxury traits of Oliver Peoples with a contemporary urban aesthetic.
Mosley Tribes travels to the remote and stunning Hawaiian island of Kauai to draw inspiration for their latest summer 2011 collection and campaign.
This slice of tropical paradise, known for its rich and varied landscapes, offers the perfect back drop for the plethora of textures and colors offered this season: from classic black to "Matte Kalahari Tortoise" to a fresh Matte White with blue accents.
Some great new pieces would have to be the Merchant and Crane sunglasses. Both frames feature a unique and very cool sweat-bar, giving them a rugged feel. Mosley Tribes Merchant sunglasses are a distinct slightly oversized plastic frame with a classic key hole bridge and is offered in great color combos. While the Mosley Tribes Crane aviator offers an exceptionally nice fit for medium to smaller faces, as well as women.
With a wide range of new styles and color options there is sure to be a prefect pair of shades for the sunny days ahead. The new Mosley Tribes Sunglasses Summer 2011 Collection is now in stock at Eyegoodies.com.
SHOP:
Mosley Tribes Sunglasses
Read more in our blog about:
Mosley Tribes Sunglasses
Summer 2011