HERTZ FURNITURE LAUNCHES CONTEST TO SUPPORT NATIONAL CHARTER SCHOOLS CONFERENCE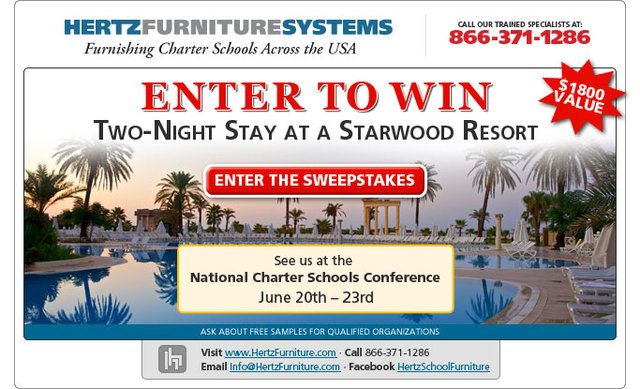 Mahwah, NJ (June 13, 2011) - In honor of the National Charter Schools Conference from June 20-23, Hertz Furniture is launching a contest open to employees of all charter schools throughout the continental United States.
The grand prize of the Hertz Furniture Charter Appreciation Sweepstakes is a two-night stay at a Starwood Hotels resort. Starwood Hotels have hundreds of resorts around the world, and the contest winners can stay at the resort of their choice. This prize is valued at up to $1800.
Charter school personnel can enter the contest by going to the Hertz Furniture
Charter Appreciation Sweepstakes
or by sending a postcard to Hertz Furniture Charter Appreciation Sweepstakes, c/o Hertz Furniture, 95 McKee Drive, Mahwah, New Jersey 07430. The winners will be selected in a drawing on June 30th and will be contacted within 10 days of the drawing.
Hertz Furniture is a member of charter associations across the United States from New York to California. Proud to work closely with the charter school community, Hertz Furniture understands the unique needs of charter schools and wishes to show its appreciation by awarding this prize to one of the dedicated workers of America's charter schools.
In addition to selling high-quality
School Furniture
with a minimum 25-year warranty, Hertz Furniture offers complimentary planning and design services to help save its customers time and money.
About Hertz Furniture:
For 45 years Hertz Furniture has supplied schools, religious institutions, businesses and government offices with top quality commercial furniture and superior customer service. Speedy Quotes, Quick Ship products, a wide selection of eco-friendly furniture, a free project planning and design service and the best warranties in the industry are just a few of the ways that Hertz Furniture provides added value to its customers. For additional information on Hertz Furniture and its extensive line of products, please visit
www.HertzFurniture.com
, speak to a furniture specialist at 800-526-4677, or send an email to ahoffmann@hertzfurniture.